While I was out wandering the mountains of Georgia, someone was typing up and submitting their review of Not Waving, Drowning for the inimitable Kirkus Review. I am pleased to report, I do NOT suck. I did not star, but neither did I crash and burn. For those of you that have purchased and read Not Waving, Drowning. Thank you, and I hope you agree with all the most wonderful parts of this review, and that you stuck through the complicated parts… because I write for a smart, yet complicated reader, and let's face it, life is damn messy.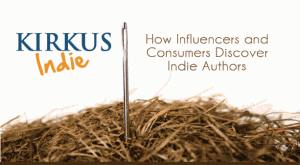 What Kirkus had to say:
Sands, Linda NOT WAVING, DROWNING CreateSpace (224 pp.) $14.99 Paperback $2.99 e-book September 26, 2011 ISBN: 978-1466409736
The lives of three women, separated by time and connected by loss, are woven together in unexpected ways in Sands' debut novel. The seductive Southern charms of Savannah, Ga., provide the backdrop for Sands' tapestry of a novel that interweaves the lives of three women from starkly different eras.
In August 2011, photographer and grieving widow Maggie Morris arrives in Savannah after her husband's sudden death in a boating accident. While investigating his mysterious drowning, Maggie becomes entangled in the lives of several local residents. One of these is a handsome, young lighthouse restorer who recounts the story of the famous Waving Girl—Savannah's own maritime legend who greeted ships for over 40 years from the island home she shared with her brother.
In alternating chapters, the novel flashes back to the 1890s, when a feisty newspaper reporter named Bobbie Denton, who also happens to be Maggie's great-grandmother, meets the actual Waving Girl, née Florence Martus, while on assignment in Savannah. Flora's story, told from an intimate point of view, centers on one day in 1940 when the 72-year-old woman lays to rest her dead brother, George, while recalling her life's dark secrets.
If this all sounds a bit complicated, it is. Sands writes with graceful lyricism about the longings and regrets that bind these disparate women, and the images of lonely lighthouses and windswept shores are often stunning. As a whole, however, the novel suffers from narrative interruptions, with the chapters alternating rapidly and often abruptly, and many threads becoming tangled as a result.
On their own, each woman's story is rich and engrossing. In an ambitious novel spanning more than a century, Sands creates tension in small moments and haunting questions—many of which are not answered until the final pages.
Despite the awkward narrative structure, there is plenty of Southern charm to keep readers hooked until the end. Strong female characters and an evocative setting make this an enjoyable read.
What Bookwenches had to say:
Title: Not Waving, Drowning
Author:  Linda Sands
Publisher: BookBaby
Release Date:  September 26, 2011
ISBN: 978-1-61842-1715 Length:
Novel Format:  Electronic
Genre: Fiction
Language/Violence Level:  2 Sensuality Level: 3 Rating:  5+ Keeper
Reviewed by:  Clea
The stories of three women, spanning a century, interlink with one another in beautifully haunting ways. Flora, a feisty elderly woman, chooses to reveal a lifetime full of secrets to a complete stranger on the day of her beloved brother's death.  Bobbie, a turn of the century reporter, travels for her job but is actually running from the trauma of her past, sacrificing her soul for scraps of love. Maggie, a woman who finds it increasingly difficult to express her emotions, goes to Savannah to look into her husband's mysterious disappearance. ******** Savannah, Georgia, with all its quirks and traditions serves as a back drop to a multigenerational story of three unconventional women who struggle to survive the paths their lives have taken. Their stories are linked by beautiful poetry filled with love, hurt, death, grief, and life. The poetry serves not only as a tool to link the women and their experiences, but it also enhances the feelings behind each scene and draws the reader into the lives of these characters even more. Flora, Bobbie and Maggie are three unique characters that will haunt you long after you've finished reading their stories. They are strong, independent women full of heartache who struggle to survive and move forward with their lives the best ways they know how. Often that means making unwise choices in life which can lead to little bits of insanity, but sometimes that's the key to survival. This book is overflowing with emotion and a lot of it is often sadness and loneliness, but the author manages to interject mild touches of humor even in the darkest moments of sadness. This may move you from tears to giggles in the blink of an eye, but the author does it in a way that is tasteful and serves to remind you that life goes on. One thing about this book that kept me turning the pages is how the story leaps from different points in time and takes us on a timetable throughout the history of the world from the late 1800's, to the 1940's then jumps to modern times.  I loved how the author uses this technique to show how the things we do, think and feel will affect people of generations to come. Not Waving, Drowning isn't a happy-go-lucky story that will perk you up and make you feel good about life; instead it is a beautifully written, sad story that will leave a lasting imprint on your soul.