All hail  THE MANDO!
Okay, I just wanted to say that. Read on, read on, you'll get it.
Welcome to the page, Armando. You put me on quite a music search I'll have you know. And it was… AWESOME.
Thank you for being the reason I didn't get my 2000 words on the page today. 🙂 This was a fun interview.
Don't believe me?  Hrmph. ( Meet me at the bottom of this post and we will see. )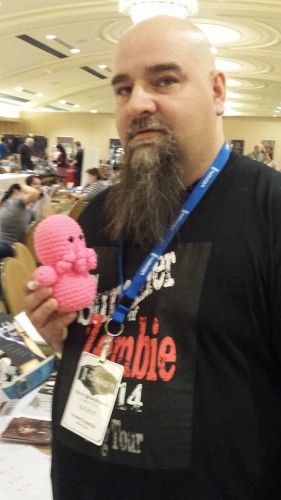 Armand Rosamilia is a New Jersey boy currently living in sunny Florida, where he writes when he's not sleeping. He's happily married to a woman who helps his career and is supportive, which is all he ever wanted in life. He's written over 150 stories that are currently available, including horror, zombies, contemporary fiction, thrillers and more. His goal is to write a good story and not worry about genre labels. He runs two very successful podcasts on Project iRadio, too.
Arm Cast: Dead Sexy Horror Podcast – interviewing fellow authors as well as filmmakers, musicians, etc.
Arm N Toof's Dead Time Podcast – with co-host Mark Tufo, the duo interview authors and filmmakers and anyone else they feel like talking to
He also loves to talk in third person… because he's really that cool. He's a proud Active member of HWA as well. You can find him at armandrosamilia.com for not only his latest releases but interviews and guest posts with other authors he likes. E-mail him to talk about zombies, baseball and Metal.
Too cool. I love me some horror and  yep, those third person speakers are awesomely cool. Come on in and let's play:
Take the Author Challenge: Answer 10 Questions in 10 Words
You lucky duck! You get to spend a day with one of your characters. Who is it and what do you do?


Darlene Bobich from Dying Days. We eat M&Ms and nap.
What was your favorite (graded or not) class you ever took ?


Creative writing senior year. Miss Stansky was a great teacher.
List ten unique things on or around your writing space.


M&Ms. Comic Books. Darth Vader. Signed picture of Lita Ford's ass. Beaches movie poster. Vodka skull. Trooper beer. Zombies. Wrestling award. Red Sox cards.
I'm sending you on vacation—alone. Where will you go, what will you do?
Cabin in Maine during winter so I can just write.
Your book is going to be a movie. Hooray. You get to cast the lead characters. Go!


Alyssa Milano is Darlene Bobich. Mikal Vega as John Murphy.
An author in your genre is too sick to write anymore. Their publisher calls upon you to fill in. Who's the author and what's the title of the book you'll write?


Mark Tufo. Zombie Follies: Tufo Money is the book name.
A famous NYC deli is naming a sandwich after you, what is it called and what's in it?
The Mando. Tuna and cheese on a cinnamon raisin bagel.
Tell us the last ten songs you listened to. (extra credit if you provide links)
Hardline – Hot Cherie
Everclear – AM Radio
Jetboy – Feel The Shake
Steel Panther – The Burden of Being Wonderful (Ok, I  had to add this video link. JUST TOO FUNNY.)
Dramarama – Work For Food
Lizzy Borden – American Metal
Jackyl – Dirty Little Mind
Billy Squier – Don't Say You Love Me
Volbeat – I Only Wanna be With You
Killer Dwarfs – Dirty Weapons
Let's talk pets. What do you have? What do you want? What died?


I'm not a pet owner. Not a fan at all.
Go to your current WIP. Turn to page 10. Write the ten words that appear on line 10.
From Dirty Deeds 2:
"Where will we meet?" If Chenzo was flying in this…
So, yeah, I'm still on Lita Ford's ass pic, hoping it was young Lita… not old Lita.  And, damn, now I want M&M's.
Connect  with Armand on Facebook and Twitter. Better yet, check out his book page on Amazon, and don't be left out, buy his newest book right over here:
Green River Blend: A Supernatural Thriller (from Devil Dog Press)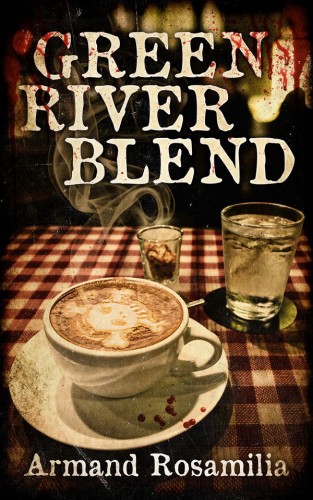 Nothing exciting ever happens in a small town. Especially in the sleepy Florida beachside stretch known as Hammond Beach, nestled between Daytona Beach and St. Augustine. Free from corporate businesses and a slew of tourists descending upon the quaint former fishing village, Hammond Beach is like a painting. Locals run the businesses on Main Street. Even when a new coffee shop opens, the owner hires only Hammond Beach locals, including manager, Betty. She's born and raised in Hammond Beach and knows everyone.
But when the latest and greatest coffee is put out, Green River Blend, strange things begin to happen to the residents of Hammond Beach.
Thanks for playing Armand. I hope to meet you in person soon. Dragon*Con?
****
Every month new authors  are featured on Linda's blog. If you're a writer, or have a suggestion for an author to interview, please reply in the comments or drop us a line  on the Keep in Touch page. You can also subscribe to the blog here.
"Clever, sexy, witty, and shot glasses full of fun, 3 Women Walk Into a Bar is no joke — and with one of the freshest and most exciting new voices in crime fiction, Linda Sands is an author to watch."
~Douglas Corleone, author of Robert Ludlum's The Janson Equation