Happy Wednesday.
Julia and I may have met a few years ago at an Atlanta Writers Club event, but only recently got to know each other through our affiliation with Sisters in Crime. Check out the link and find a group near you. It's a great organization for writers—and readers who enjoy a mystery, thriller or any sort of criminal activity on the page.
Julia McDermott was born in Dallas, grew up in Atlanta, and is a graduate of UNC-Chapel Hill. During her Tar Heel days, she spent her junior year studying in the South of France. After college, she headed back to Dallas, worked
in a downtown bank, and later, for a software developer in Richardson, Texas. Over the next dozen or so years, she "retired" to raise four children and moved across the country four times. During her "mom-years," she successfully avoided volunteer leadership roles, but found herself constantly being drafted to pen articles, craft newsletters, proof essays, update websites, and even write poetry. Julia's next novel, a suspenseful story of family drama mixed with corporate dysfunction, is titled A Zero-Sum Game, and will be out in spring 2016.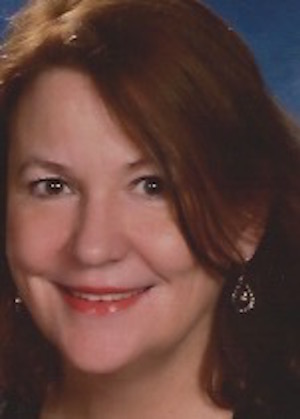 She may have been able to avoid those kid-related volunteer jobs, but Julia couldn't resist playing The Author Game.  Let's welcome her to the page and see if she can stick to the rules.
It's time to Take the Author Challenge:
Answer 10 Questions in 10 Words
1. You lucky duck! You get to spend a day with one of your characters. Who is it and what do you do?
    Dawn Mitchell. She's Helen's sister and has a great job and a wonderful husband. She and I go to work on a Friday, and then go out to dinner. (But make it in July,because she lives in Chicago.)
2. What was your favorite (graded or not) class you ever took?
Art History, in high school.
3. List ten unique things on or around your writing space.
 1. Piano
2. "Careful, or you'll end up in my novel" plaque
3. French class notebook
4. Ipad
5. Chewing gum
6. "Never, never, never give up" paperweight
7. Family beach scrapbook
8. Framed, signed personal letter from author Peter Mayle
9. Stacks of notes, receipts, messages, and articles
10. Mirror
4. I'm sending you on vacation—alone. Where will you go, what will you do?
Fiji (but I have to fly first class). I'll stay at a resort, hang out on the beach, drink, and write.
 5. Your book is going to be a movie. Hooray. You get to cast the lead characters.
CANDACE: Amy Adams. HELEN: Liv Tyler. MONTY: James Franco. DAWN: Jennifer Connelly. FRANK: Johnny Depp ROB: Colin Firth. JESS: Jennifer Lawrence.
6. An author in your genre is too sick to write anymore. Their publisher calls upon you to fill in. Who's the author and what's the title of the book you'll write?
The title is"Snake-bit" and the author is Gillian Flynn.
7. A famous NYC deli is naming a sandwich after you, what is it called and what's in it?
The Julian: Cheeses from France (unpasteurized), Bacon, Tomato, and Avocado on French bread.
8. Tell us the last ten songs you listened to. (extra credit if you provide links)
"My Type" by Saint Motel; "Stressed Out" by Twenty One Pilots; "East of Eden" by Zella Day; "Giants" by Bear Hands; "Let's Groove" by Earth, Wind, and Fire; "Water with the Wine" by Joan Armatrading; "California" by Joni Mitchell; "Blue Bayou" by Linda Ronstadt; "Every Little Thing She Does Is Magic" by The Police; and "The Sweetest Taboo" by Sade.
9. Let's talk pets. What do you have? What do you want? What died?
I am a dog person. When I was growing up, we had a terrier named Napoleon. When my kids were little, we had a German Shepherd named Sibyl; she died of cancer. Our last dog was a super-energetic mix of a German Pointer and a Black Lab (we think) named Sammy. She died from natural causes in 2014 at age 15.
10. Go to your current WIP. Turn to page 10. Write the ten words that appear on line 10.
"…she was property-rich and cash-poor. She closed Excel and massaged…"
That was fun! I'm pretty sure your word count machine was a little off for this exercise. LOL. But I like a writer who has something to say and is determined to get it out. 🙂  By the way, your sandwich description has made me hungry and I love your song playlist. I only had to look up one artist.
For more of Julia McDermott, check out her books on Amazon.  Follow her on Twitter or friend her on Facebook.
Her book, UNDERWATER is available as an e-book, paperback or audio book.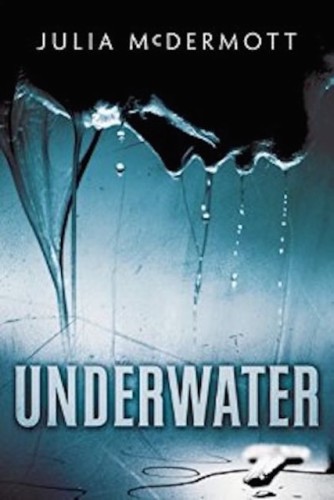 After years of guilt over a long-ago tragedy, Candace Morgan is finally poised for success. The CEO of her own women's shapewear company, she's about to launch a new swimsuit line—and make a fortune. When she is guilted into loaning her brother a huge sum of money for real estate, she believes she's simply fulfilling a family promise. In reality, she's enabling a devious sociopath…and now, she's roped into the renovation from hell.
For years, Monty Carawan has envied his sister's wealth. Spiteful and self-centered, he's convinced that her success came at the expense of his own future. But when the housing market plunges and Candace attempts to disentangle herself from Monty's mess, her brother's malicious streak brings the family tension to a dangerous boiling point.
Julia is also the author of a very special memoir about her son's battle with brain cancer. You can buy your copy of ALL THE ABOVE on Amazon today.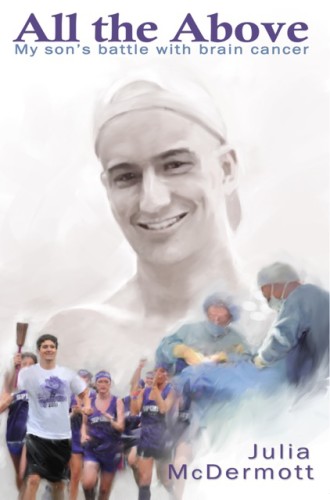 On his 19th birthday – the day after his freshman year at the University of Georgia – Jack McDermott woke up with double vision. Hours later, he was diagnosed with a brain tumor. Positioned deep in his head right behind his optic nerves, the tumor rapidly threatened to rob Jack of his sight, and he was rushed into surgery. For the next six months, he fought the battle of his life.
Told with honesty, tenderness, and compassion, All the Above chronicles his mom's emotional struggle when her son looked death in the face, and as she did everything possible to help him survive brain cancer. This inspiring true story of courage, optimism, and hope will touch all those whose world has changed in a day, and who have faced grief and loss.
***
Every Wednesday, a new author is featured on Linda's blog. If you're a writer, or have a suggestion for an author to interview, please reply in the comments or drop us a line  on the Keep in Touch page. You can also subscribe to the blog here.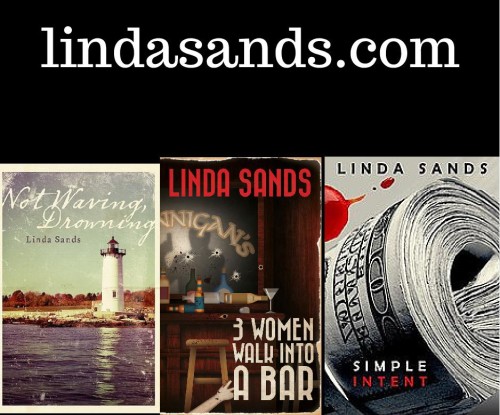 "Clever, sexy, witty, and shot glasses full of fun, 3 Women Walk Into a Bar is no joke — and with one of the freshest and most exciting new voices in crime fiction, Linda Sands is an author to watch." 
~Douglas Corleone, author of Robert Ludlum's The Janson Equation