As we wrap up a year of enormous surprises, I give you this sentiment.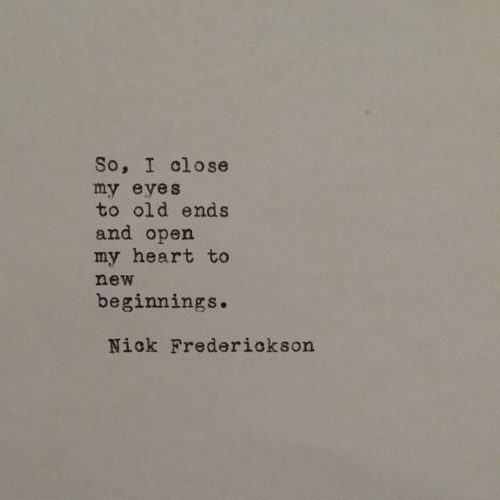 We chose what to focus on every moment of our lives. Let your outlook be positive and a smile your armor.
On that note, welcome the last featured author of 2016, Cristiane Serruya.

Cris Serruya is a writer, a lawyer, a reader; a woman, a mother, and a wife. Not necessarily in this order. Or in any order… I live in Rio de Janeiro, Brazil, with my six-foot-six husband, two teenage daughters, and Loki, my Shetland sheepdog. In 2012, after twenty-two years of practicing law, I decided to give writing a go. And—amazingly—it was just the piece that was missing in the puzzle of my life. I love to hear from readers so fell free to stalk me online and those who want to receive my very, very sporadic emails about new releases and promotions can sign-up on my website. Oh, yes, all my ebooks are on KindleUnlimited where you can read them all for free.
 Take the Author Challenge: Answer 10 Questions in 10 Words
You've been contracted to write a book with the proviso that an event from your own life is the opening paragraph. Set the scene.
The bullet hit the car, inches away from her head.

What are you reading this week?


Bird by bird, by Anne Lamott
It's fight or flight time and you're at your favorite writing spot. What will you do?
Fight! With sharpened pencils, a rubber, and a Moleskine!
Your book needs a soundtrack. What's the vibe? List a song or two. Go!
Loss, lust, and love. Linkin' Park, Evanescence, and David Guetta.
An author in your genre is too sick to write anymore. Their publisher calls upon you to fill in. Who's the author and what's the title of the book you'll write?
Kresley Cole and Gena Showalter are both sick. Damned Dacian.
A famous NYC deli is naming a sandwich after you, what is it called and what's in it?
Sweet Spice. Plain hamburger with Chilean peppers and Guava Ketchup.

You get to own an exotic pet. What is it and where do you keep it?


A white tiger. Inside my working space!

I'm a Genie and I'm granting you three wishes. None of them can be about writing. What do you ask for?


Only three? Well, then. Happiness, healthiness, richness! (Duh.)
It's time for Breakfast with Dead Authors. Who's coming? (Poets, screen and songwriters included)
Kafka, Ionesco, Orwell, Sartre, DeBeauvoir, Keats, and Drummond de Andrade.

Go to your current WIP. Turn to page 10. Write the ten words that appear on line 10.


Hannah watched the gliding movements, the light touch pushing and (…)
Yes, TIGERS! and Anne Lamott. We will be great friends, Cris.
Thank so much for stopping by to play 10 for 10. I'm popping over now to check out your Trust series. Hmm. Some beautiful covers, that's for sure. LOL.
Happy NewYyear and best of luck with your books!
Trust Series 1-8  Available Only on Amazon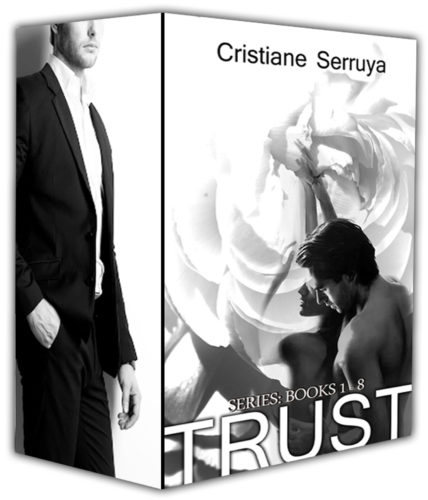 Ethan, an international steel tycoon, traumatized by sexual experiences in his youth, has never believed he would be able to love a woman—or be loved by one. Until he meets Sophia. Sophia, a wealthy Brazilian widow, fled her own country after a tragic incident. In London, with her 3 year-old daughter, she lives a lonely existence, torn between the love for a dead man, the angst of living with partial amnesia, and the fear of being discovered. But just after she begins a relationship with Ethan, she meets Alistair. Handsome and guilt-ridden, Alistair has no trouble finding women for one-night stands, who indulge him in his desire to physically punish them to abate his own tortured soul. A powerful banker from a traditional and noble Scottish family, he commands his business with a strong hand, and yet knows better than anyone that money truly cannot buy love or happiness. But it can buy distraction. After meeting Sophia, he will do anything to have her. If only once. In Europe, in the months after October 2009, their paths will cross and clash. Ethan, Sophia, and Alistair will need to overcome their pasts, fears, and pains and learn to see themselves through forgiving eyes. Or succumb to their misery. Eventually, wishes come true. So do nightmares.
Praise for TRUST Series
"Cristiane Serruya is a master of characterization. (…) The depth of these characters is incredible. The intensity of the relationships will have the reader eagerly turning the pages. This is a must read for fans of romance." ~ Readers' Favorite
"It is one of those series that keeps you glued until the end and then once it gets over, you wonder where your life is finally headed to!" ~ Criti…que…don't criti…cize
"Just when you think you know what is going to happen next, a twist so crazy that you could have never imagined it is thrown your way. I loved this about this book." ~ For the Luv of Sanity
"Fascinating story, it is very complex as it unfolds over time but well worth reading. (…) you can expect the unexpected." ~ Musings from an Addicted Reader
"Cristiane Serruya created a book with all the elements I love: Two crazy possessive alpha males, a strong female character, drama, intensity, and most importantly (…), the most erotic and sexual moments, without going overboard." ~ SBook Lover's Reviews
Cris, it's great to meet you- even if it's just virtually!
 If you're looking for some light reading, Cris and I both have chapters in this free book: KP Authors Cook Their Books Get your copy today and enjoy cooking recipes and cocktail recipes.
You can connect with Cris on Facebook and Twitter.
Thanks for stopping by. See you next year!
Best,
Linda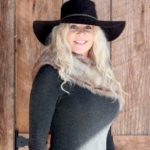 ******* 
Every month new authors are featured on Linda's blog. If you're a writer or have a suggestion for an author to interview, please reply in the comments or drop us a line on the Keep in Touch page.
You can also subscribe to the blog here.
"Clever, sexy, witty, and shot glasses full of fun, 3 Women Walk Into a Bar is no joke — and with one of the freshest and most exciting new voices in crime fiction, Linda Sands is an author to watch."
~Douglas Corleone, author of Robert Ludlum's The Janson Equation
I hate to use the hackneyed phrase "refreshingly original," but boy howdy, does it fit the bill here! A hard-nosed (and hard-other-things, apparently, based on his past as a stripper) detective investigates the death of three young women, none of whom are precisely what they seem. Linda Sands has written a wickedly witty and viciously vindictive story whose only flaw is its comparative lack of alliteration. Puns and irony abound, however, so I'll let that slide. The remarkable thing is that she gets so much into her main character's voice that you'd bet your bottom dollar the book was written by a man. She absolutely nails the lovable light misogyny that is ever-present in the genre, while lightly lampooning it as well. I mean, this woman has some major cajones – in a very female way. But this is definitely not a book for girly-girls. They can go read Twilight, and let the rest of us have a blast with Linda Sands.