I'm pleased to welcome a fellow Kindle Press Author and kindle Scout Winner, plus a fellow member of Sisters in Crime to the page on this Wednesday for THE AUTHOR GAME. Grab a cup of coffee and take a seat as we pose the questions to Nancy Raven Smith ( who, of course, has a drawing of a raven on her desk), though how col would it be to have a stuffed one hanging over her desk?  Maybe that's just me. LOL.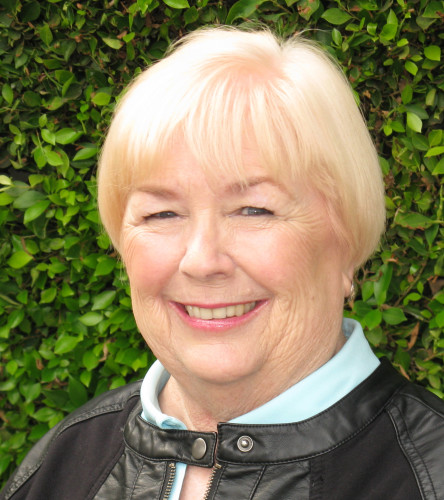 Nancy Raven Smith grew up in Virginia where she showed horses and ran horse sport events. Later in California, she traded event experience for film work and went to UCLA for screenwriting. Her scripts won numerous awards. Several were optioned. She wrote one idea as a novel and discovered a passion for writing mysteries. Raven Smith realized that she found her true creative home in writing mysteries/romantic suspense. She is a member of Sisters in Crime, Romance Writers of America, & Mystery Writers of America.
Welcome, Nancy. Let's play:
Take the Author Challenge: Answer 10 Questions in 10 Words
You lucky duck! You get to spend a day with one of your characters. Who is it and what do you do?
Lexi (from Land Sharks). Poolside cabana lunch at the famous Beverly Hills Hotel. We'd swim, eat, drink, tan, and discuss frauds and banking scams.
What was your favorite (graded or not) class you ever took ?
Linda Palmer (author, screenwriter, and VP at Tri-Star Pictures) for her on-going screenwriting workshop classes at UCLA.
List ten unique things on or around your writing space.
An orange salt crystal light, A cool drawing of a raven, My PS-2 that I love to play Lara Croft Tomb Raider video games on, Rock, fossil, and petrified tree specimens, Pictures of my family and pets, A stack of classic Uncle Scrooge Comics by Carl Barks, My husband's and my computers are across from each other so I'd have to include him. He's definitely unique and special – and a 10!
I'm sending you on vacation—alone. Where will you go, what will you do?
If money were no object – Machu Picchu, the Great Wall of China, the whales in Baja, or the Indian Pacific Train across Australia.
Your book is going to be a movie. Hooray. You get to cast the lead characters. Go!
Lexi Winslow – Emma Stone or Amy Adams, Andre Van der Meer – Lee Pace
An author in your genre is too sick to write anymore. Their publisher calls upon you to fill in. Who's the author and what's the title of the book you'll write?
Elizabeth Peters (I can dream I could write that well) for her Vicky Bliss series. Titled The Pearls of the Labyrinth.
A famous NYC deli is naming a sandwich after you, what is it called and what's in it?
A croissant sandwich with melted ham, cheese and spinach called the Introvert's Delight.
Tell us the last ten songs you listened to.
Halleluiah – sung by Geoff Tate at a live event
Paradise by the Dashboard Lights – Meatloaf
Danger Zone – Kenny Loggins
Playing with the Boys – Kenny Loggins
Heaven in Your Eyes – Loverboy
Through the Fire – Larry Greene
Destination Unknown – Marietta
Innocent Man – Billy Joel
The Longest Time – Billy Joel
Piano Man – Billy Joel
Let's talk pets. What do you have? What do you want? What died?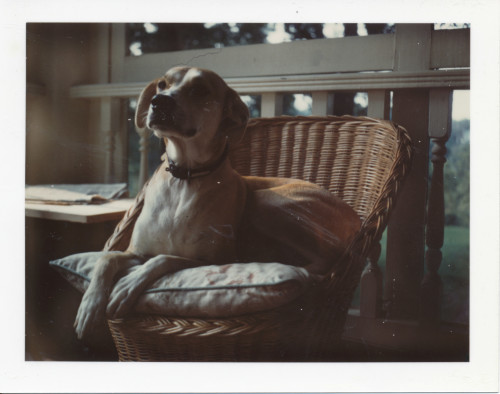 The original title for our family memoir by my husband was Horsing Around – How 26 Rescue Horses, 12 Cats, 10 dogs, and a Cow, Plus 2 suburban Teenagers Made Me a Better Human. (now titled The Reluctant Farmer of Whimsey Hill).
'Nuff said about pets. Luckily we lived on a farm.
Go to your current WIP. Turn to page 10. Write the ten words that appear on line 10.
My current WIP is in outline form still.
Nancy,  I've always wanted a cow, but never sure I wanted to live on a farm, so that sort of limited me… I love the regal pose of your favorite rescue dog in the faded photo. I feel like there is a real story there. 🙂 Thanks for being a good sport and for giving me a bunch of great music memories.
Learn more about Nancy by following her on Facebook or check out her Amazon Author page, where you can buy her newest book Land Sharks – A Swindle in Sumatra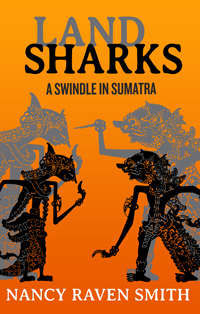 A fall from grace costs Lexi a position at a top New York financial institution. She ends up in a job at a small private bank in Beverly Hills. But that's okay, she still gets to work in her favorite field – catching white collar crooks. At least that's what she tells herself. But when Karista, the daughter of one of the bank's principal investors, runs into danger while traveling in Indonesia, Lexi's job comes to depend on her ability to save her. Even worse, Lexi will have to baby sit Steve, her boss' well-meaning but spoiled son, while going undercover to reach the heiress. Lexi's cushy tropical assignment soon spirals into chaos as she has to outrun fashion-forward Batak natives, outwit an arrogant FBI agent, help Steve find his stolen Air Yeezy sneakers, and figure out why her amorous former lover and debonair gentleman thief, Andre, is staying at the same resort.
Lexi will have to be very good or very lucky to survive it all.
DOWNLOAD YOUR COPY OF LAND SHARKS FOR JUST .99  NOW. 
*****
Every month new authors  are featured on Linda's blog. If you're a writer, or have a suggestion for an author to interview, please reply in the comments or drop us a line  on the Keep in Touch page. You can also subscribe to the blog here.
"Clever, sexy, witty, and shot glasses full of fun, 3 Women Walk Into a Bar is no joke — and with one of the freshest and most exciting new voices in crime fiction, Linda Sands is an author to watch."
~Douglas Corleone, author of Robert Ludlum's The Janson Equation