It seems like just yesterday I was trying to figure out what to say— oh right, that was yesterday. I was just sitting at my desk waiting for the muse to arrive and I found myself typing a bunch of nonsense… until it wasn't. If you're a writer, you know exactly what I'm talking about. There is a moment when a stream of consciousness paragraph begins to make sense. It's like the Rubik's cube clicking into place, like the ding of an arriving elevator, like Grandma's egg timer buzzing to announce the cake is done, except in this case it's not the end of anything, but the beginning of everything.
I like that part. I like it alot.
I also like helping and meeting fellow authors.  Like this dude. Join me in welcoming Erik Therme to the page.
Erik Therme has thrashed in garage bands, inadvertently harbored runaways, and met Darth Vader. When he's not at his computer, he can be found cheering for his oldest daughter's volleyball team, or chilling on the PlayStation 3 with his twelve-year-old. He currently resides in Iowa City, Iowa—one of only seven places in the world UNESCO has certified as a City of Literature.
Well, I am certainly jealous of the Iowa City locale… except  in the dead of winter. Then, you can have your city and all the  snowbound literary types. I'll be at the beach.
But, I digress. It's time to Are you ready to play? Let's do this thing.
Take the Author Challenge: Answer 10 Questions in 10 Words
1. You lucky duck! You get to spend a day with one of your characters. Who is it and what do you do?
Andy Crowl from Mortom. I'd take him to a shrink.
2. What was your favorite (graded or not) class you ever took?
Gym class. Climbing the rope always made me feel funny.
3. List ten unique things on or around your writing space.
Slinky
ChapStick
Cardboard pig
Fargo snow globe
Star Wars calendar
A bowl of toothpicks
A deck of Mortom playing cards
Kindle Scout T-shirt (hanging on wall)
Gizmo slippers (from the movie Gremlins)
Tommy Wiseau bobblehead (from the movie The Room)
4. I'm sending you on vacation—alone. Where will you go, what will you do?
Bangor Maine, to stake out Stephen King's house.
5. Your book is going to be a movie. Hooray. You get to cast the lead characters. Go!
Resthaven should absolutely be cast with The Muppets.
6. An author in your genre is too sick to write anymore. Their publisher calls upon you to fill in. Who's the author and what's the title of the book you'll write?
Jennifer Jaynes: Never Talk to Anyone or Leave the House
7.  A famous NYC deli is naming a sandwich after you, what is it called and what's in it?
The Thecker: Lo Mein noodles on wheat bread. Yummy!
8. What are you reading this week?
DESTINED, by Jordan Pinckney & Will Lenzen JR.
9. Let's talk pets. What do you have? What do you want? What died?
Three cats (one deceased), two hamsters, one fish. No more.
10. Go to your current WIP. Turn to page 10. Write the ten words that appear on line 10.
"Your mother . . . jumped off the side of a parking ramp."
Oh my, that was fun. I love the fill-in for the celeb book title, and crap, I ned to see The Room.  No spoilers, please. I have a few Stephen King stories, BTW… let's save that for another time.
Folks, if you'd like to connect with Erik, click these links to check him out on Goodreads and Facebook, or send him a gluten-filled tweet @ErikTherme .
 Of course, you must buy his book,
Rest Haven
.  It's real easy, just click 
RIGHT HERE.
  It looks like this: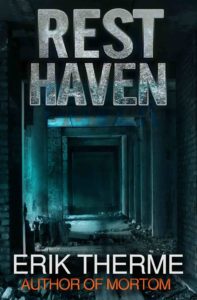 The last thing Kaylee wants to do is participate in a childish scavenger hunt–especially inside the abandoned retirement home on the edge of town. When she finds a bruised, deaf boy hiding inside one of the rooms, she vows to lead him to safety . . . only to discover the front doors are now padlocked, and her friends are nowhere to be found. Kaylee is about to learn that not everything that goes 'bump in the night' is imaginary, and sometimes there are worse things to fear than ghosts.
****Every month new authors  are featured on Linda's blog. If you're a writer, or have a suggestion for an author to interview, please reply in the comments or drop us a line  on the Keep in Touch page.
You can also subscribe to the blog here.
"Clever, sexy, witty, and shot glasses full of fun, 3 Women Walk Into a Bar is no joke — and with one of the freshest and most exciting new voices in crime fiction, Linda Sands is an author to watch."
~Douglas Corleone, author of Robert Ludlum's The Janson Equation