Hello! and Welcome!
I have been so busy running around pimping my writing and hanging with wordsmiths that I have been a very bad blogger. But…I'm back! That's right.
It's time for another author intro.  This time, I'm taking you to Dundee where Graham agreed to play the 10 for 10 game.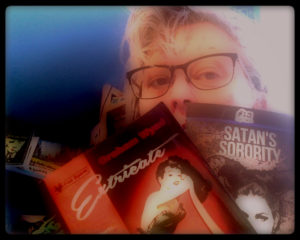 A writer of bleakly noirish tales with a bit of grim humour, Graham Wynd can be found in Dundee but would prefer you didn't come looking. An English professor by day, Wynd grinds out darkly noir prose between trips to the local pub, including SATAN'S SORORITY from Number Thirteen Press and EXTRICATE from Fox Spirit Books. See more stories (including free reads!) here.
YAY! Free stories! I'm in. Are you ready to play 10 for 10? Let's see how she does.
Take the Author Challenge: Answer 10 Questions in 10 Words
You lucky duck! You get to spend a day with one of your characters. Who is it and what do you do?
Run! Most of my characters end up badly—usually dead. One exception: I'm sticking with Hope from the story 'Mesquite' because she's got a lot more story in her. She's a good person but she's a little too loyal to the people she grew up with. That tale is in the Anthony award-nominated collection Protectors edited by Thomas Pluck.
What was your favorite (graded or not) class you ever took ?
It was probably the Heroic Tradition in Northern Europe where I first read Viking sagas and Beowulf. Great stuff! Wild fights and dark humour.
List ten unique things on or around your writing space.
At the moment? Fountain pen, handmade paper, thistle wax stamp (only because I've been writing letters), a biography of Doreen Valiente, The Dain Curse, a TASCAM mic, Alice in Wonderland journal, Wickerman children's poster by Of Stick and Bone. Uh…a pile of things from the London trip. Cuppa tea (always).
I'm sending you on vacation—alone. Where will you go, what will you do?
A remote cabin in Finland: I'd read and write.
Your book is going to be a movie. Hooray. You get to cast the lead characters. Go!
Hmmm, Satan's Sorority: if I could go back in time, I'd get cool 70s actors to play the roles, but if it were now, let's see: I think the innocent-at-first Sandra Delites could be played by Lily James or maybe Yasmin Page, and the seductive Trixie Faust could be Zoe Kravitz. I'd want it to still be set in 1958 which could be a lot of fun for the look of it—lucky set designers!
An author in your genre is too sick to write anymore. Their publisher calls upon you to fill in. Who's the author and what's the title of the book you'll write?
Well, I wouldn't want to wish illness on anyone, so let's say there's a partial Patricia Highsmith manuscript discovered and the publisher wants to have it completed. It would be called Do Something and explore the way a so-called 'nice guy' develops an unhealthy obsession with tragically criminal results.
A famous NYC deli is naming a sandwich after you, what is it called and what's in it?
The noir burger: a rarebit dream of a sandwich with four kinds of cheese and a slice of haggis.
What are you reading this week?
Treasure of the Sierra Madre (The Dain Curse is next week). Filling in my education: seen the film many times, but I've not read Traven's book.
Let's talk pets. What do you have? What do you want? What died?
My most recent pet was Kipper, a very luxurious grey cat. I have vicarious pet dogs through my brother (we share a 200 year old house in the New York half of my life).
Go to your current WIP. Turn to page 10. Write the ten words that appear on line 10.
I smiled at her and made a cutting motion across my neck.
That was fun. But haggis?? Um. No thank you. I'll stick with the cheese.
Follow Graham Wynd on Facebook  here. Connect on Twitter. And be sure to check out her website and author page over on Amazon,
where you can buy her new book: Satan's Sorority
The devilish girls of Sigma Tau Nu
There's simply nothing they wouldn't do–
1958: Sandra Delites is packed off to college in Connecticut after an 'incident' with another girl. Her father thinks a small town university will be just the thing to straighten her out, only he hasn't reckoned on the sisters of Sigma Tau Nu. Not just any sorority, their rites are bloody and the girls are hot – but not for the boys! President Trixie Faust sees a lot of potential in the newest pledge and Sandra is eager to learn: the thrill of the kill is just the beginning for these college girls gone wild.
Halloween will be extra scary this year. Forget black cats, you don't want one of these sisters to cross your path.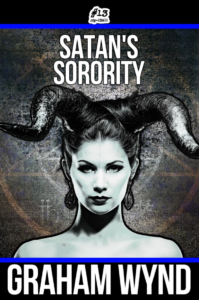 SATAN'S SORORITY: '…a smart, witty and marvelously well-written slice of pulp fiction. Full of great lines and clever asides.'
~ Paul D. Brazill, author of Guns Of Brixton and A Case of Noir
Every month new authors  are featured on Linda's blog. If you're a writer, or have a suggestion for an author to interview, please reply in the comments or drop us a line  on the Keep in Touch page.
You can also subscribe to the blog here.
"Clever, sexy, witty, and shot glasses full of fun, 3 Women Walk Into a Bar is no joke — and with one of the freshest and most exciting new voices in crime fiction, Linda Sands is an author to watch."
~Douglas Corleone, author of Robert Ludlum's The Janson Equation