You won't find him wasting time on Facebook, or shouting Good Morning! to strangers on Twitter, but you will find him right here, answering the tough 10 for 10.
It's Rick Ollerman,  the author of four novels: TURNABOUT, SHALLOW SECRETS, TRUTH ALWAYS KILLS and MAD DOG BARKED. He is editing the anthology BLOOD WORK in honor of the late Gary Shulze, writing a true crime book along with the victim, as well as editing a collection of letters between John D. MacDonald and his wife written during WWII, and a collection of his own non-fiction pieces. Short stories will be in the anthology WINDWARD: The Best Crime Writing of New England 2016 from Level Best and another story in WAITING TO BE FORGOTTEN from Gutter Books. He can be reached through www.ollerman.com.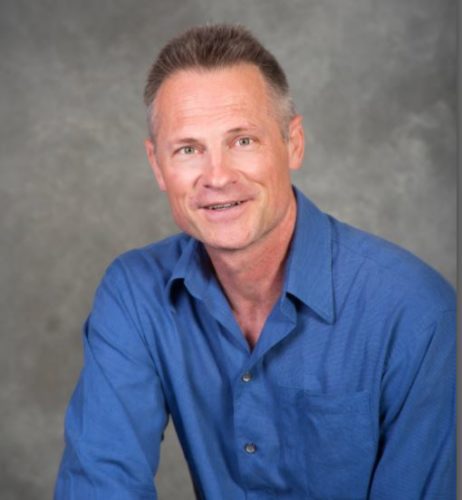 Okay, you healthy eating man, it's time to play. Let's see if you can follow the rules and stick to the short replies when you
Take the Author Challenge:
Answer 10 Questions in 10 Words
You lucky duck! You get to spend a day with one of your characters. Who is it and what do you do?
Scott Porter to see where he really goes….
What was your favorite (graded or not) class you ever took?
The final one. It was also the first I forgot.
List ten unique things on or around your writing space.
Miss Marvel bust, limited issue (and bust has a double meaning here); a handcrafted pen that looks like a ray gun when placed on its stand; a strange rectangular box made of glued writing utensils and painted silver; a strange circular box made of glued coins and painted silver; one of my son's Little League pictures from some years ago; a phone that can be used as an intercom back to the house; an Amazon Dot; an art eraser used for removing the pencil marks from used books; a Captain Marvel articulating figure to keep the Miss Marvel bust happy when I'm not around.
I'm sending you on vacation—alone. Where will you go, what will you do?
Florida, my former home. I'll go anywhere, do anything. Sweat.
Your book is going to be a movie. Hooray. You get to cast the lead characters. Go!
Change it to an all-girl cast and go from there.
An author in your genre is too sick to write anymore. Their publisher calls upon you to fill in. Who's the author and what's the title of the book you'll write?
Michael Connelly. "The Better Bosch." (Most reviews seem to say each book isn't one of the "better Bosches.")
A famous NYC deli is naming a sandwich after you, what is it called and what's in it?
Vege-noir. Stuffed with evil vegetables, cole slaw and spicy mustard.
What are you reading this week?
Ken Bruen. So ask again in half an hour.
Let's talk pets. What do you have? What do you want? What died?
I have two Golden Retrievers, one Dalmatian, two guinea pigs. I want dogs that live as long as I do. What died: two Goldens, three Dalmatians, one guinea pig.
Go to your current WIP. Turn to page 10. Write the ten words that appear on line 10.
"I went down on my knees just before hitting bottom"
I am unduly curious about the strange glued boxes on your desk. And also, would love to see the bust of the bust. 🙂
Pretty sure if Connelly saw that suggested title he'd scoop it up, by the way.
Thanks for playing, Rick. I hope to hang with you at  the next Bouchercon!
In the meantime, I'm hopping over HERE to pick up my copy of MAD DOG BARKED
 You should, too! Look at what these cool people are saying about it:
MAD DOG BARKED is a clever ride of a thriller that will keep you reading start to finish. HIGHLY RECOMMENDED. –Charlie Stella, author of TOMMY RED
If Gold Medal was still in business today these would be in their top ten bestseller list. –Ed Gorman, author of the Sam McCain series
If you're looking for a fast-paced crime novel, here it is. —George Kelly
Ollerman handles this substantial material swimmingly, telling a strong, tough, compelling and original crime yarn that locks your lapels in its fingers before your eyes get to the bottom of page one. Taut storytelling, lean and mean prose, rich characterization and cutting suspense combine to deliver a sucker punch as full of hard knuckles as anything the godfathers of noir wrote. Stack this one on the top shelf next to the other big boys. The pantheon grows. Thompson, Chandler, Hammett, Cain, Collins … and Ollerman. —Kristofer Upjohn, NOIR JOURNAL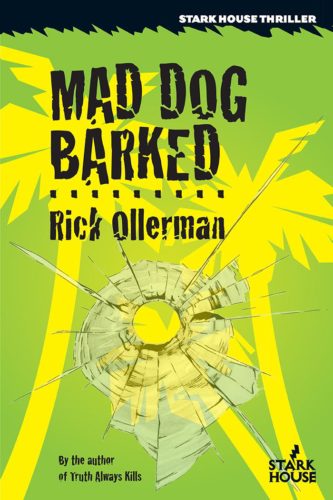 Scott Porter owns a Florida detective agency. When he takes on a client with an old book and a mysterious note, he enters a world of hitmen and sudden death, where no one is quite what they seem.
Rick Ollerman has written many fine introductions for Stark House Press, building a dependable and knowledgeable reputation in the field of noir fiction. This is his fourth Florida thriller for Stark House Press.
******* 
Every month new authors  are featured on Linda's blog. If you're a writer, or have a suggestion for an author to interview, please reply in the comments or drop us a line  on the Keep in Touch page.
You can also subscribe to the blog here.
"Clever, sexy, witty, and shot glasses full of fun, 3 Women Walk Into a Bar is no joke — and with one of the freshest and most exciting new voices in crime fiction, Linda Sands is an author to watch."
~Douglas Corleone, author of Robert Ludlum's The Janson Equation