I've heard this guy read a handful of times at Bouchercon events. I've never heard the same passage twice, nor have I ever been disappointed. That says a lot. Beetner has a way with words, and the delivery's not half bad, either.
But don't listen to me. this week, you have a chance to hear it straight from the mouth of Eric.
But first, wish him a happy book birthday. LEADFOOT launched yesterday, and it's already on my Kindle.
WHAT ARE YOU WAITING FOR?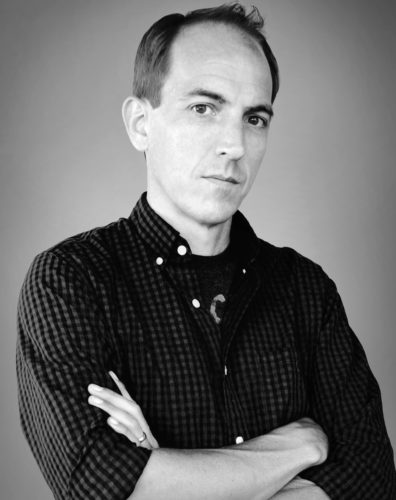 Eric Beetner is author of more than a dozen novels including Rumrunners, The Devil Doesn't Want Me, Dig Two Graves, Run For The Money, and The Year I Died Seven Times. He lives in Los Angeles where he co-hosts Noir At The Bar.
   Take the Author Challenge: Answer 10 Questions in 10 Words
1.      You've been contracted to write a book with the proviso that an event from your own life is the opening paragraph. Set the scene.
A child is born near death. Few think he'll survive.
2.      What are you reading this week?
My Damage by Keith Morris.
3.      It's fight or flight time and you're at your favorite writing spot. What will you do?
Fight! Using my antique ceremonial dagger from India.
4.      Your book needs a soundtrack.  What's the vibe? List a song or two. Go!
Leadfoot is set in 1971, Hendrix and The Who feature prominently.
5.      An author in your genre is too sick to write anymore. Their publisher calls upon you to fill in. Who's the author and what's the title of the book you'll write?
Max Allan Collins and I'll write Quarry In Hollywood
6.      A famous NYC deli is naming a sandwich after you, what is it called and what's in it?
The EB – Chicken, bacon, mayo, coleslaw, fried egg, crusty roll
7.      You get to own an exotic pet. What is it and where do you keep it?
A sloth. In my backyard.
8.      I'm a Genie and I'm granting you three wishes. None of them can be about writing. What do you ask for?
More hours per day. A Ferrari. Happiness for my kids.
9.      It's time for Breakfast with Dead Authors. Who's coming? ( Poets, screen and songwriters included)
Charles Williams, Jim Thompson, William P McGivern
10.   Go to your current WIP. Turn to page 10. Write the ten words that appear on line 10.
Owen did his best to put aside the fear and distrust
Thanks for playing, Eric. I had to go find an old interview to solve the mystery of question #1. I am impressed.  I may not have had the same start in life, but our wish list is strangely similar. 🙂
Looking forward to reading Leadfoot over the holidays. Best of luck with it.
You can follow along on Facebook as Eric installs sloths in his backyard. Send him heckling Tweets here while he's on stage at Noir at the Bar. Tell him I sent you.
Be a good reader and check out all of Eric's books. Be a better reader and post a review on Amazon so Eric will continue to write books.
His newest book, out Nov. 1, is Leadfoot. Buy your copy here. 
.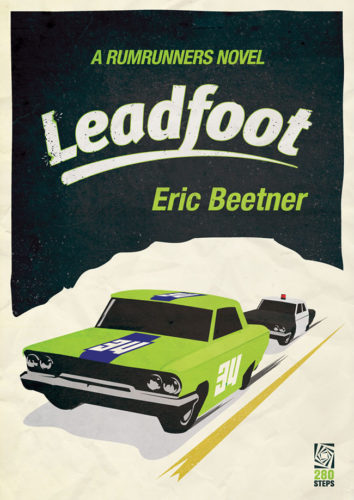 The McGraws are back for more madness and mayhem in this prequel to Rumrunners.
It's 1971, and outlaw driver Calvin McGraw is grooming his 19-year-old son Webb to uphold the family name. Drugs, money, people—the McGraws drive anything and everything.
When a delivery goes wrong, Calvin steps knee deep in a turf war between his employer, the Stanleys, and a rival Midwestern crime syndicate, but his week gets a whole lot worse when Webb—on his first solo job—loses the cargo.
Advance Praise for Leadfoot:
"Characters display unexpected but plausible depths, and Beetner effectively balances action scenes with quieter moments. Readers, especially fans of the TV series Fargo, will want to seek out his other work."
Publishers Weekly
"No padding here, no bouts of introspection. Just good writing and straight ahead storytelling at a relentless pace."
Booklist
"Beetner has taken the bootlegger genre and distilled it down past the landscapes, and idiom, into the pure white lightning that stories about guns and booze deserve. He made it fun as hell. He populates Leadfoot with characters as rich and lively as any Elmore Leonard novel, and when Beetner punches the gas, you can almost see the McGraw's middle fingers flying as they invite us all along for the ride."
Brian Panowich, author of Like Lions and Bull Mountain
"Eric Beetner is already miles ahead of the competition, but in Leadfoot he's found yet another gear."
Allan Guthrie, author of Slammer
******* 
Every month new authors  are featured on Linda's blog. If you're a writer, or have a suggestion for an author to interview, please reply in the comments or drop us a line  on the Keep in Touch page.
You can also subscribe to the blog here.
"Clever, sexy, witty, and shot glasses full of fun, 3 Women Walk Into a Bar is no joke — and with one of the freshest and most exciting new voices in crime fiction, Linda Sands is an author to watch."
~Douglas Corleone, author of Robert Ludlum's The Janson Equation