You might be like me this week- forgetting your days, writing  and reading away the morning, surprised to see six o'clock roll around and have little to show for it.
Or maybe… you've been super productive and are ready to tell me all about it. Go ahead, down there in the comments.
Let's take a moment and welcome an interruption in your productivity. A day some folks call Wednesday, others call Hump Day, and I call the day we play  THE AUTHOR GAME.
Yep. It's Q and A time. Not to be confused with T and A time. Because… well, that's another blog for another time.
Let's get right to it. Welcome Vincent Robert Annunziato, a nice Irish boy- Kidding!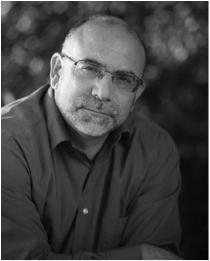 Vincent started his writing journey over 25 years ago when he pursued a screenwriting career in Hollywood. After several failed attempts, Vincent left the entertainment field and took a job with the government in order to provide for his family."It was a difficult choice to walk away from the entertainment field with such a strong conviction toward writing. When I decided to marry my wife Nancy, I needed a solid job to support us so I did the responsible thing and put my dreams on hold." Twenty six years and three kids later, Vincent returned to writing.
 I'm tempted to insert dramatic intro music here… you know, with the whole Hollywood past, but I won't instead, let's move right to the game.
Take the Author Challenge: Answer 10 Questions in 10 Words
Vincent, let's start this the rough way, like we like our fiction.
It's a two parter. 10 words for each reply.
I want to buy you a drink. You can have whatever you want. What do you order, and where are we?
Grand Marnier/Rocks, Panama Canal – Miraflores Restaurant

Now what would your protagonist order, and where would they be?
My protagonist doesn't know what alcohol is!
Write your life's story—so far—in ten words.
Grew up, Married, Created three children, would do it all again
A young writer approaches you and asks you to read their work and give an honest critique. It sucks. What do you say?
Let's talk.
You win the Edgar. How are you celebrating?
Kind of odd to win one for Sci Fi, but… Cheesecake Factory with the Fam!
You have to complete one of these two tasks in front of a large audience of admirers and haters: 1. Karaoke 2. Soul Train style solo dance. In 10 words, give the name of the song and a description of your performance.
Brandi You're a Fine Girl
List ten unique things on or around your writing space
Kindle Scout Button, MoonPie Sign, Padre Pio, Photo of my Grandmother and I dancing on my wedding day, Easter Chick Card from kids, Lighthouse cup holder, Easy Button, Break In formula for Baseball Glove, Broken Watch, Italia Metal Water Bottle
Your agent calls and says he has a book deal in the works, but you'll have to switch genres to make millions. What do you do?
Switch genres
A famous NYC deli is naming a sandwich after you, what is it called and what's in it?
The Vincenzo – Footlong Italian Bread with thinly sliced Provolone, Prosciutto, Genoa Ham and Roast Beef. Mayo, Mustard and Lettuce.
You can be any fictional character for a day— just 24 hours. Who are you and why?
Aragorn – He married an elf, ruled and kicked everyone's butt who got in his way. lol
Forget about writing for a minute. If you weren't doing this, what would you be doing—if you had all the education and money you'd ever need to be able to take any job, anywhere?
I'd sell exotic cars.
To find out more about Vincent follow him on Twitter or friend him on Facebook. Of course he's also on Goodreads and Amazon Author Central 
This week, you can be the first in line to pre-order his new book, The Kindle Scout Winner, 33 Degrees.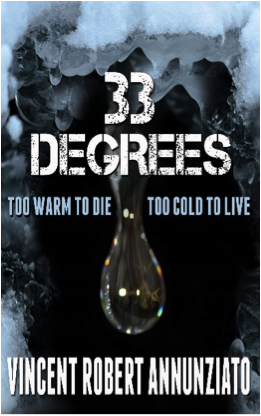 About the book: Civil war and a new ice age have changed the United States forever. The South surfaces victorious and they are out for revenge.
At 18 years old, Javin has spent his life watching other people die. He's an "Underground," a "Feral" left behind by his parents to fend for himself in a dangerous world. Raised in a silo, he ventures out in freezing temperatures to find work. Survival is a train ride away. If he gets on board, he works. If he works, he eats. If he eats, he will get to do it all over again.
Javin's journey leads him to love a woman nobody else will have. And together they must rally their people in hopes that the North may regain its rightful place amongst men in a world where it's too warm to die, and too cold to live.
33 Degrees will chill you to the bone in this suspenseful new novel.
Oooh. I'm on board that train. Not Javin's train, but the Annunziato train!  Looking forward to reading the entire 33 Degrees, not just the Kindle Scout teaser pages.
Best of luck to you Vincent and thanks for playing today.
If you are a writer, or have a writer suggestion to play 10 for 10, please drop an email to linda@lindasands.com We are scheduling the rest of 2015 now.
Like what you read? Check out more of Linda's writing over here.
Her new book, 3 Women Walk into a Bar is already earning rave reviews. Available now as an ebook and coming next month in trade paperback wherever fine books are sold.
"Clever, sexy, witty, and shot glasses full of fun, 3 Women Walk Into a Bar is no joke — and with one of the freshest and most exciting new voices in crime fiction, Linda Sands is an author to watch." ~Douglas Corleone, author of One Man's Paradise, Good as Gone, Payoff and Robert Ludlum's The Janson Equation
 "Though its intelligent humor is obvious, 3 Women Walk into a Bar is no joke.  It's a wonderfully twisted tale with a sly take on our digital culture.  Riveting and beautifully written, this is a novel that should be on everyone's must-read list." ~ William Kent Krueger, Edgar award winning author of Ordinary Grace, and the Cork O'Connor mystery series"
A fresh new voice that's a bit noir, a bit off-beat, and a heckuva good time." – Maggie Toussaint, author of Bubba Done It, a Dreamwalker mystery
Have an awesome week!
Linda