Boy, oh boy, do I feel like the slacker. Just reading Jessica's bio makes me want to go back to school.
Well, maybe not back to school,  but, I'd be willing to learn how to make a quahog sandwich. Let's welcome Jessica to the page.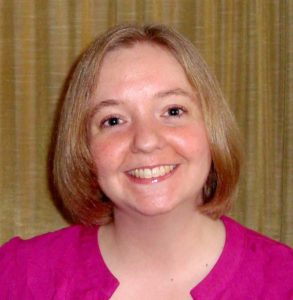 Born and raised in Northern California, Jessica Knauss has wandered all over the United States, Spain, and England. She has worked as a librarian and a Spanish teacher and earned a PhD in medieval Spanish literature before entering the publishing world as an editor. Her acclaimed novella, Tree/House, and short story collection, Unpredictable Worlds, are currently available. Her epic of medieval Spain, Seven Noble Knights, will be published by Bagwyn Books in December 2016. Feel free to sign up for her mailing list for castles, stories, and magic.
Are you ready to play, Jessica. ( always the student, this writer asked to clarify the 10 word reply rule. I like that she chose when to break the rules.) 🙂
Take the Author Challenge: Answer 10 Questions in 10 Words
You lucky duck! You get to spend a day with one of your characters. Who is it and what do you do?


I take Beth, the young girl with so much Talent, to her favorite places in Providence: the library, Federal Hill, the State House, the mall. I wish I could do it today!

What was your favorite (graded or not) class you ever took ?


Medieval history during a long, hot summer in Sevilla, Spain.
List ten unique things on or around your writing space.


A lifelike plastic model of a baby white rhinoceros.
A letter opener my dad made when I earned my PhD.
A Christmas ornament of the skyline of Providence, Rhode Island.
Reproduction wax seals from Alfonso X, el Sabio's reign.
A one-inch Alfonso X figurine my best friend's husband made.
Five different notepads with scribbled ideas for hundreds of projects.
A finger puppet in regalia from the University of Salamanca.
A "Stargazer" painting by an Acoma artist in New Mexico.
A silk rose, white with red polka dots, from Spain.
A palo verde tree (outside the window).

I'm sending you on vacation—alone. Where will you go, what will you do?


I'll catalogue the medieval manuscripts in a Spanish monastery.

Your book is going to be a movie. Hooray. You get to cast the lead characters. Go!


We'll have a casting call for all the undiscovered young actresses and actors I need. Emilia Clarke is on board to play Patricia, the psychic therapist, and Matt Damon is considering playing the small but impactful role of the father of Kelly the firestarter. Denzel Washington has always supported this project, and we may prevail upon him to play the helpful father of Brian, Kelly's firestarter love interest. Dane DeHaan would make an excellent Carlos.

An author in your genre is too sick to write anymore. Their publisher calls upon you to fill in. Who's the author and what's the title of the book you'll write?


Patricia Bracewell. Viking Exile to finish the Queen Emma series.
A famous NYC deli is naming a sandwich after you. What is it called and what's in it?


The Talent of Little Rhody: quahog, Portuguese roll, aluminum foil. (It comes with a coffee milk or Del's frozen lemonade.)
What are you reading this week?


Lynn Cullen's Poe. Edgar Allan Poe, sexy. Who knew? (I'm loving the well-researched atmosphere of New York in the 1840s.)

Let's talk pets. What do you have? What do you want? What died?


I believe animals belong in the wild.

Go to your current WIP. Turn to page 10. Write the ten words that appear on line 10.


…that some greater force is propelling her toward her destiny. (From the sequel to Awash in Talent)
 Thanks for playing, Jessica. That was super fun. I have no idea what half of the things on your desk are, but I know the next time I go to Spain, I'm calling you!
    Hey, I read Poe,too. And I personally know Lynn. She is a kick!
You can follow along with Jessica's exploits and adventures by friending her on Facebook or telling her how awesome she is in 140 characters or less over here on Twitter. Be sure to pop over to Jessica's Amazon page and see all of her books. Including her brand new release: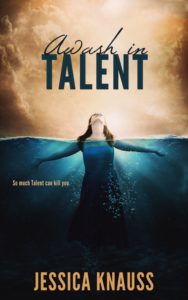 So much Talent can kill you.
Welcome to Providence, Rhode Island, home of telekinetics, firestarters, and psychics! Emily can't escape her annoyingly Talented telekinetic healer sister without committing a crime.Kelly must escape her pyrokinesis school and bring Emily's sister to Boston—her mother's life depends on it. Appointments with Emily might drive her psychic therapist insane.With so much Talent, sometimes it's all you can do to function in an un-Talented society.
Thanks for stopping in for Jessica's Book Launch Tour.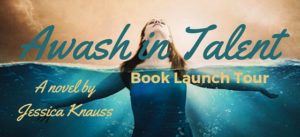 Come back every other Wednesday for more author interviews and book recommendations.
****Every month new authors  are featured on Linda's blog. If you're a writer, or have a suggestion for an author to interview, please reply in the comments or drop us a line  on the Keep in Touch page.
You can also subscribe to the blog here.
"Clever, sexy, witty, and shot glasses full of fun, 3 Women Walk Into a Bar is no joke — and with one of the freshest and most exciting new voices in crime fiction, Linda Sands is an author to watch."
~Douglas Corleone, author of Robert Ludlum's The Janson Equation