We have had fun meeting new authors and finding great new books to read here on lindasands.com.
This week, we invited Kindle Scout winning author, Laurel Osterkamp to play 10 for 10. This is the last Wednesday of the year, and the last post for these questions. A new batch of writers and questions awaits the new year. Be sure to check back in 2016!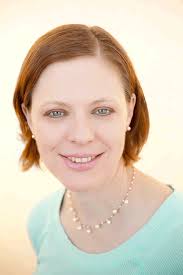 Laurel Osterkamp becomes very attached to her characters. The Standout, The Holdout, The Next Breath, November Surprise, Blue State, and American Angst all feature the Bricker family, but these books can be read in any order. Laurel teaches English and Creative Writing in Minneapolis, where she tries to stay warm, hang out with her husband and two chatty children, and find the time to write. Her other novels are the award-winning Following My Toes and Starring in the Movie of My Life.
Take the Author Challenge: Answer 10 Questions in 10 Words 
1. Hi there. It's a tough writing day ahead. What are you wearing?
Grey hooded sweatshirt, black socks, jeans, perfume, and an attitude.
2. We've all read bad books for the right reasons. What's the worst book you read, and why?
My Sister's Keeper:  Pissed about the ending! Jodi Piccoult's famous?
Here's a two-parter. You've been hired to write an episode in a popular TV series. You must introduce a new character and create a plot twist. What's the show and name of character? (It's okay to abbreviate show title.)
Quantico; Mabel
What's the plot twist?
Sexy octogenarian seduces terrorists with oatmeal raisin cookies
Reading aloud can be sexy- or daunting. I want you to read to me. What do you choose and why?
Lucy Longwhiskers Gets Lost; I'm reading it to my daughter
List ten unique things on or around your writing space.
Homemade candle, Frozen placemat, gigantic water bottle, Veronica Mars sticker, fifth grade report card, dragon menorah, jar of crushed red pepper, doctor's bill, slippers
For your book to become a bestseller and make you bazillions, you have to lose one of the following: a leg, an arm, your vision, your spouse. Which do you choose?
My leg. I hear prosthetics are really good these days.
A famous NYC deli is naming a sandwich after you, what is it called and what's in it?
The Robin Bricker (my main character) – lots of cheese & jalapenos
Get in the car of your dreams and race me. What are we driving and where are we?
A mini-Cooper, driving along the beach with no traffic
Write your life's story—so far—in ten words.
Seeking creative expression, noteriety and boots; dauther, friend, wife, mother.
Go to your current WIP. Turn to page 10. Write the ten words that appear on line 10.
I could just let it go. I could tell myself…
Friend Laurel on Facebook or follow her on Twitter. Her new book is available on Amazon.
The Standout is a psychological thriller about love and betrayal, life and death, tall buildings, and finding the courage to jump.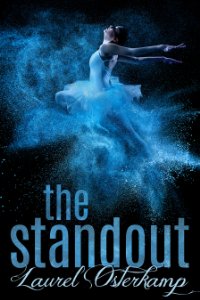 First Robin gets the email with its simple demand: dump your fiancé or else. Then someone puts up the slanderous Rotten Robin Website that threatens to crush her chances to win The Standout, a ballet-themed, fashion reality show. Surrounded by backstabbing co-contestants and haunted by mysterious ghosts from her past, Robin can't trust anyone, including herself. Her only allies are Zelda, a ballerina and model, and her older brother Ted, both of whom have ghosts and secrets of their own.
Like what you read? Check out more of Linda's writing over here.
Her new book, 3 Women Walk into a Bar is already earning rave reviews. Available as an ebook and in trade paperback. Get a signed copy HERE.
"Clever, sexy, witty, and shot glasses full of fun, 3 Women Walk Into a Bar is no joke — and with one of the freshest and most exciting new voices in crime fiction, Linda Sands is an author to watch." ~Douglas Corleone, author of One Man's Paradise, Good as Gone, Payoff and Robert Ludlum's The Janson Equation
 "Though its intelligent humor is obvious, 3 Women Walk into a Bar is no joke.  It's a wonderfully twisted tale with a sly take on our digital culture.  Riveting and beautifully written, this is a novel that should be on everyone's must-read list." ~ William Kent Krueger, Edgar award winning author of Ordinary Grace, and the Cork O'Connor mystery series
"A fresh new voice that's a bit noir, a bit off-beat, and a heckuva good time." ~Maggie Toussaint, Author of Bubba Done It, a Dreamwalker mystery.
"Those who aren't real-life friends with Linda Sands – or at the very least on Facebook, have no way to prepare for the verbal onslaught that is her wit and writing. "Three Women Walk into a Bar" introduces itself like the opening of a bad joke then quickly unravels into a roller-coaster murder mystery with a pace not beholden to the style of either coast. Sands is an original in a field of copycats, as fresh and deliberate as a sucker punch in the face.~ Matt McGee, editor, Falling Star Magazine
 (Now available, a free book of recipes and cocktails, featuring drinks named for eight characters in 3 Women Walk into a Bar. Check out the videos of Linda making the drinks on youtube:
CLICK HERE
   and
download the free book HERE
.)
Happy New year to all our readers. May your year ahead be filled with wonderful adventures and the best that life has to offer.