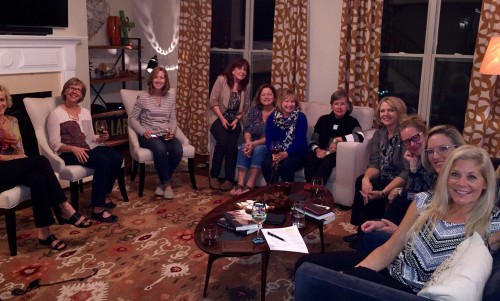 Coolest thing about books?
They connect people—in so many ways, from learning about families, jobs, cultures and traditions to understanding choices, options and motivations. You can travel the world with strangers that become your friends until the very last page, and often beyond.
As a writer, I find myself connecting with the author as much as the characters in their books. It is a treat when I get to meet writers in person, even better if I can get them to sign a book or have a chat. Last year, our book club read ORDINARY GRACE by William Kent Krueger and had him join our monthly discussion via Skype. That was awesome!
This year when our book club chose to read THE POCKET WIFE by Susan Crawford for October, we were actually able to invite her to join us at my house.  I'm so glad she was able to pull herself away from her desk for the night.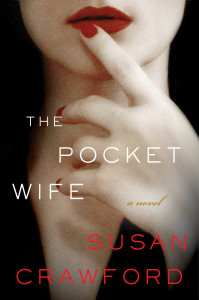 We all had questions for her about her process and her ideas, and of course about her characters, because who doesn't like a little crazy with their cornflakes?
If you haven't picked up your copy of  THE POCKET WIFE. You can get it here.
A stylish psychological thriller with the compelling intrigue of The Silent Wife and Turn of Mind and the white-knuckle pacing of Before I Go to Sleep—in which a woman suffering from bipolar disorder cannot remember if she murdered her friend.
Dana Catrell is shocked when her neighbor Celia is brutally murdered. To Dana's horror, she was the last person to see Celia alive. Suffering from mania, the result of her bipolar disorder, she has troubling holes in her memory, including what happened on the afternoon of Celia's death.
Her husband's odd behavior and the probing of Detective Jack Moss create further complications as she searches for answers. The closer she comes to piecing together the shards of her broken memory, the more Dana falls apart. Is there a murderer lurking inside her . . . or is there one out there in the shadows of reality, waiting to strike again?
A story of marriage, murder, and madness, The Pocket Wife explores the world through the foggy lens of a woman on the edge.
I'm definitely looking forward to Susan's new book THE OTHER WIDOW, that will be out next spring. Here's a teaser for you. 
Like what you read? Check out more of Linda's writing over here.
Her new book, 3 Women Walk into a Bar is already earning rave reviews. Available now as an ebook and coming next month in trade paperback wherever fine books are sold.
"Clever, sexy, witty, and shot glasses full of fun, 3 Women Walk Into a Bar is no joke — and with one of the freshest and most exciting new voices in crime fiction, Linda Sands is an author to watch." ~Douglas Corleone, author of One Man's Paradise, Good as Gone, Payoff and Robert Ludlum's The Janson Equation
 "Though its intelligent humor is obvious, 3 Women Walk into a Bar is no joke.  It's a wonderfully twisted tale with a sly take on our digital culture.  Riveting and beautifully written, this is a novel that should be on everyone's must-read list." ~ William Kent Krueger, Edgar award winning author of Ordinary Grace, and the Cork O'Connor mystery series
"A fresh new voice that's a bit noir, a bit off-beat, and a heckuva good time." ~Maggie Toussaint, Author of Bubba Done It, a Dreamwalker mystery.
"Those who aren't real-life friends with Linda Sands – or at the very least on Facebook, have no way to prepare for the verbal onslaught that is her wit and writing. "Three Women Walk into a Bar" introduces itself like the opening of a bad joke then quickly unravels into a roller-coaster murder mystery with a pace not beholden to the style of either coast. Sands is an original in a field of copycats, as fresh and deliberate as a sucker punch in the face.~ Matt McGee, editor, Falling Star Magazine
 (coming soon, a book of recipes and cocktails, featuring drinks named for eight characters in 3 Women Walk into a Bar. Check out the videos of Linda making the drinks on youtube:
CLICK HERE
)
Have an awesome week!