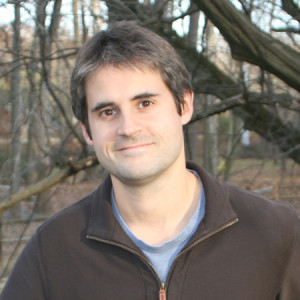 Say hello to  Rob Blackwell.
He's an award-winning journalist with 15 years' experience and the author of the Kindle bestselling series The Sanheim Chronicles and The Soren Chase novels, both of which combine urban fantasy, mystery and suspense.  His first novel, A Soul to Steal, was featured on USA Today, and The Forest of Forever was one of the first winners of a Kindle Scout contract.
Welcome to the page. Let's get right to the game.
Are you ready, Rob?
Take the Author Challenge: Answer 10 Questions in 10 Words
Hi there. It's a tough writing day ahead. What are you wearing?


Jeans and a t-shirt, my default option for clothes.

We've all read bad books for the right reasons. What's the worst book you read, and why?


Moby Dick. There's an entire chapter about knots!
Here's a two-parter. You've been hired to write an episode in a popular TV series. You must introduce a new character and create a plot twist.


A. What's the show and name of character? (It's okay to abbreviate show title.)


Sleepy Hollow. Lucy the bartender


B.  What's the plot twist?


Lucy, an innocent, must be killed to save world.

Reading aloud can be sexy- or daunting. I want you to read to me. What do you choose and why?


"Legend of Sleepy Hollow." Better read aloud for the humor.

List ten unique things on or around your writing space.


Argonath bookends (from LOTR), Three Kindle Fires, old German money with Headless Horseman on it, broken stereo, signed books by Robert Kroese and Bob Woodward, photos of my family, so much paperwork.

For your book to become a best seller and make you bazillions, you have to lose one of the following: a leg, an arm, your vision, your spouse. Which do you choose?


I would never make that trade. Not worth it.

A famous NYC deli is naming a sandwich after you, what is it called and what's in it?


Sleepy Hollow Special. Maple honey turkey with mustard and basil on wheat.

Get in the car of your dreams and race me. What are we driving and where are we?


We're on horseback, racing through Loudoun County, Va.

Write your life's story—so far—in ten words.


Saw a scary movie at age 7. Never recovered.

Go to your current WIP. Turn to page 10. Write the ten words that appear on line 10.


"It was twelve monsters against one, but Soren liked his odds."
Thanks for playing, Rob. I'm sure this month you will find all kinds of scary movies to entertain your inner child. Before I go off to make your scrumptious turkey sandwich, Let me tell readers where they can connect with you and find out what you're working on next.
On Twitter Rob can be found HERE.  His Facebook page is HERE.  Go friend him, or click his like button or something so he feels less scared.
Most importantly, here's Rob's newest book: The Forest of Forever. Buy it .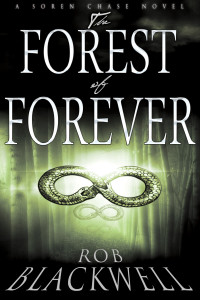 Soren Chase's life was shattered eight years ago after an encounter with a supernatural being left three friends dead and him branded as a murderer. Since then, he's become a paranormal investigator, facing off against a host of deadly creatures. But his investigation into the haunted Reapoke woods may be his most dangerous case yet. 
Something evil is lurking in the forest. Some say it's the ghost of a preacher who vanished two centuries ago; others claim the woods are the site of sinister experiments by a shadowy organization. Hired to find a missing girl, Soren is determined to learn the truth. But what he discovers is far darker than he imagines—and it may force him to confront his own tragic past.
From the author of the bestselling Sanheim Chronicles, The Forest of Forever is the start of a new series that mixes urban fantasy, mystery, and suspense into a novel that you can't put down. Because nothing is what it seems in The Forest of Forever, and once you enter, you may never leave . . .
If you are a writer, or have a writer suggestion to play 10 for 10, please drop an email to linda@lindasands.com We are scheduling the rest of 2015 now.
Like what you read? Check out more of Linda's writing over here.
Her new book, 3 Women Walk into a Bar is already earning rave reviews. Available now as an ebook and coming next month in trade paperback wherever fine books are sold.
"Clever, sexy, witty, and shot glasses full of fun, 3 Women Walk Into a Bar is no joke — and with one of the freshest and most exciting new voices in crime fiction, Linda Sands is an author to watch." ~Douglas Corleone, author of One Man's Paradise, Good as Gone, Payoff and Robert Ludlum's The Janson Equation
 "Though its intelligent humor is obvious, 3 Women Walk into a Bar is no joke.  It's a wonderfully twisted tale with a sly take on our digital culture.  Riveting and beautifully written, this is a novel that should be on everyone's must-read list." ~ William Kent Krueger, Edgar award winning author of Ordinary Grace, and the Cork O'Connor mystery series.
"A fresh new voice that's a bit noir, a bit off-beat, and a heckuva good time." ~Maggie Toussaint, Author of Bubba Done It, a Dreamwalker mystery.
"Those who aren't real-life friends with Linda Sands – or at the very least on Facebook, have no way to prepare for the verbal onslaught that is her wit and writing. "Three Women Walk into a Bar" introduces itself like the opening of a bad joke then quickly unravels into a roller-coaster murder mystery with a pace not beholden to the style of either coast. Sands is an original in a field of copycats, as fresh and deliberate as a sucker punch in the face.~ Matt McGee, editor, Falling Star Magazine
Have an awesome week!