It's Wednesday and all is well in the 'hood.  Just another day of type, type, type, while listening to imaginary people in my head. 🙂 If any of you out there are part of NANOWRIMO  this month, you know exactly what I'm talking about. Oh man, 50,000 words?
So, yes. I needed a break. And what better way to celebrate writing than to interview a writer you admire?
Hey everybody! She's baaa-aaaack!
Canadian born, Fiona Quinn is now rooted in the Old Dominion outside of D.C. with her husband and four children. There, she homeschools, pops chocolates, devours books, and taps continuously on her laptop. She is the creative force behind the popular blog ThrillWriting. Quinn writes the bestselling Lynx Series including: Kindle Scout winning novel WEAKEST LYNX as well as MISSING LYNX, CHAIN LYNX, and CUFF LYNX. She also wrote the mystery novella, MINE and co-authored CHAOS IS COME AGAIN a noir comedy.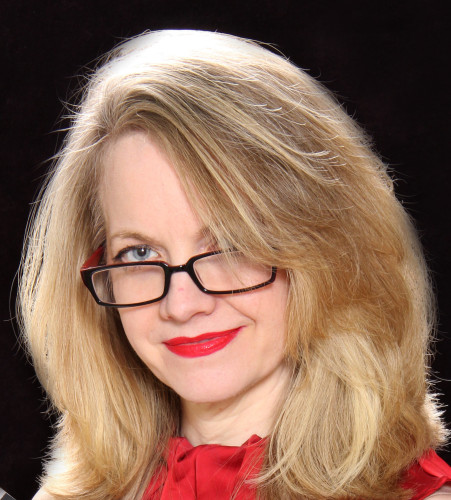 Hey, Fiona! It was so cool to meet you in "real life" at the recent Bouchercon convention in Raleigh. I always knew where to find you- just scan the crowd for red and black.  You match my site perfectly. 🙂
Thanks for agreeing to play the author game again. I hope these questions will be just as challenging as the old ones—or more so.  Let's see if you can stick to the 10 word rule….
Take the Author Challenge: Answer 10 Questions in 10 Words  
 Hi there. It's a tough writing day ahead. What are you wearing? 


I'm curled up in fleecy PJ bottoms and a t-shirt.
We've all read bad books for the right reasons. What's the worst book you read, and why?
Worst book was Beowulf for an English class. Awful!
 Here's a two-parter. You've been hired to write an episode in a popular TV series. You must introduce a new character and create a plot twist.   


A. What's the show and name of character? (It's okay to abbreviate show title.)
The Unit. A kick-ass scientist. She outfights the elite unit.


B.  What's the plot twist? 


The manipulation of a reading trajectory with a surprising element.
Reading aloud can be sexy- or daunting. I want you to read to me. What do you choose and why?
I love to read aloud. Almost anything with drama involved.
List ten unique things on or around your writing space.
diabetes alert dog (Bear)
Dog treats that smell like salmon (to pay Bear for his alerts)
Buddha balls
bio-freeze
orchids
coffee mug – wait! That's ubiquitous to writers
glass dish of tiny treasure – rocks etc. – that my children have presented to me.
drawing pad and colored pencils
police procedural book.
handcuffs  (inspiration/research)
For your book to become a best seller and make you bazillions, you have to lose one of the following: a leg, an arm, your vision, your spouse. Which do you choose?
By "losing a husband" you just mean temporarily misplaced, right?
A famous NYC deli is naming a sandwich after you, what is it called and what's in it? 


QUINNtet – 2 slices brioche, chocolate and banana fried in butter . (It will make your mouth sing.)
Get in the car of your dreams and race me. What are we driving and where are we? 


I'm in a Land Cruiser, and we're driving across Iceland.
Write your life's story—so far—in ten words.
A reed, bending in a storm, is stronger than oaks.
 Go to your current WIP. Turn to page 10. Write the ten words that appear on line 10 


"opening shot pictured a thirty-something nerdy-looking guy, small and slight,"
Hah! You are the first one that figured out the tricky loophole in question #6!   Though it sounds tempting, I am pretty sure your QUINNtet sandwich would make my arteries sing- and not in a good way. 🙂  Thanks for being a good sport- and sticking to the rules!
You can follow Fiona on Facebook or drop her a tweet over here.
What Lexi wants is a simple life. What she gets is simply terrifying.
Lexi Sobado is a 20-year-old experienced intelligence consultant with a special psychic gift. However, her gift couldn't prevent her from becoming the focus of a stalker's desires. With a death threat shoved in her purse, she finds herself caught in the middle of a sinister web of crime and corruption. Striker Rheas, a seasoned special agent, is charged with keeping Lexi safe. But can he keep his personal life separate from his professional life as he finds himself falling for his assignment? What Lexi hides, what she reveals, and what she keeps trying to uncover is a delicate balancing act as she tries to save her own life and stop the killer. Can Lexi learn to love, trust, and harness the power of her psychic flashes before it's too late?
If you're a writer, or have a suggestion for a writer you'd like to be interviewed, please drop us a line. (linda@lindasands.com) We'd love to hear from you.
Like what you read? Check out more of Linda's writing over here.
Her new book, 3 Women Walk into a Bar is already earning rave reviews. Available now as an ebook and coming next month in trade paperback wherever fine books are sold.
"Clever, sexy, witty, and shot glasses full of fun, 3 Women Walk Into a Bar is no joke — and with one of the freshest and most exciting new voices in crime fiction, Linda Sands is an author to watch." ~Douglas Corleone, author of One Man's Paradise, Good as Gone, Payoff and Robert Ludlum's The Janson Equation
 "Though its intelligent humor is obvious, 3 Women Walk into a Bar is no joke.  It's a wonderfully twisted tale with a sly take on our digital culture.  Riveting and beautifully written, this is a novel that should be on everyone's must-read list." ~ William Kent Krueger, Edgar award winning author of Ordinary Grace, and the Cork O'Connor mystery series
"A fresh new voice that's a bit noir, a bit off-beat, and a heckuva good time." ~Maggie Toussaint, Author of Bubba Done It, a Dreamwalker mystery.
"Those who aren't real-life friends with Linda Sands – or at the very least on Facebook, have no way to prepare for the verbal onslaught that is her wit and writing. "Three Women Walk into a Bar" introduces itself like the opening of a bad joke then quickly unravels into a roller-coaster murder mystery with a pace not beholden to the style of either coast. Sands is an original in a field of copycats, as fresh and deliberate as a sucker punch in the face.~ Matt McGee, editor, Falling Star Magazine
 (coming soon, a book of recipes and cocktails, featuring drinks named for eight characters in 3 Women Walk into a Bar. Check out the videos of Linda making the drinks on youtube:
CLICK HERE
)
Have an awesome week!