Linda Sands is the award-winning author of four novels. Her short stories and essays have appeared in The Atlanta Journal-Constitution, The Walton Sun, Skirt! Magazine, Dogplotz, Moronic Ox, a bunch of defunct lit mags and various anthologies. Most recent awards include Georgia Author of the Year for Mystery/ Detective novels and two Killer Nashville Judge's Choice Awards for Best Neo-noir and Best PI novel.
Linda splits her writing time between the Gulf Coast of Florida, the Mountains of Georgia and the suburbs of Atlanta where she and her husband cheer on the competing colleges of their children.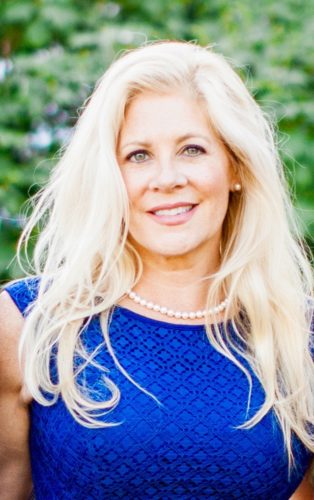 Website: lindasands.com
Twitter:  @lindasands
Facebook: LindaSandsAuthor
Email: linda@lindasands.com
HOW THE LINDA SANDS BRAND CAME TO BE
Many authors say that they've always been a writer. While I'm certain that doesn't mean they were born with the stub of a pencil gripped in their tiny baby hands, I've often wondered what it does mean.  When does always start?  If it's from the first day you were introduced to free-writing time in elementary school, then okay, I get that. I loved free-writing time. It was even better when the teacher snuck outside to smoke and we locked her out.
I was good at that. Story-telling and mischief-making. I never thought it could be a real job, though. Maybe that's why it took me twenty years to get serious about it— books, not mischief-making. I'm always serious about mischief.
My life approach has always been to live each day to the fullest. To say yes more than no. To travel to places I've never been, take jobs I've never had and hang out with people I may never have met in normal circumstances. Needless to say, this has fed my writing more than any college course or MFA program. During a dinner party in Pennsylvania when I heard a prominent civil rights attorney say, "This case could be a book," something clicked, as if that was the moment I had been waiting for to start writing something longer than ten pages. The basis of her cold case became my book Simple Intent.
While working on the book, I honed my craft by writing personal essays and award-winning short stories. My first sale was an op-ed in The Atlanta Journal-Constitution. The recognition was bittersweet, as the article drew praise as well as criticism in the form of hate mail. Feeling that perhaps op-eds weren't for me, I kept my eyes open for other novel ideas. Funny thing about opening yourself up to the universe. On vacation in Savannah I found the subject of my second book, Not Waving, Drowning while talking to shopkeepers on the river about the legend of The Waving Girl.  The story was compelling enough to earn me a New York agent and an introduction to the changing world of publishing.
In the meantime, I was interviewing long-haul truck drivers and taking photos of their rigs for a coffee table/art book idea, because… why not? Through Facebook, I met a photographer who was shooting portraits of drivers. We joined forces and traveled to truck shows across the US. She took photographs and I collected stories—and characters. Later that year, I began writing a book called Grand Theft Cargo. Eventually, the coffee table book was shelved and I moved on to write book two in the Cargo Series, Precious Cargo, with plans for three more.
While the series was being shopped in New York, I kept writing. Flash fiction, short stories and a screenplay. Googling my own name one day led to the idea behind 3 Women Walk into a Bar. Somedays, you just wonder if you're living the life you were meant to live. When it became apparent that New York wasn't ready for a noir meets the Internet with an ex-stripper, karaoke star as the protagonist, I submitted 3 Women Walk Into A Bar to Kindle Scout and won an e-book publishing contract with Kindle Press. Signing with Down & Out Books for the print rights, I found a new home. Down & Out is publishing Grand Theft Cargo in February of 2017, and I could not be happier. Stay tuned. There's more to come.
Q & A with Linda Sands
When did you have the "light bulb" moment that you wanted to become a writer?
Was I supposed to have a "light bulb" moment? I guess I skipped class that day. My path to becoming an author was more of a meandering one. I do remember opening the envelope that held the first check for an article I sold. I thought it was crazy that they were paying me for something I'd do for free.
Where did you get the idea for your most recent book?
I was in the middle of creating a photo essay book featuring long-haul truckers and their rigs, when I had a conversation with my agent. While trying to describe the people I was meeting and the positive vibes I was receiving, I discovered their stories needed more than a single page in a coffee table book.
What is it about this story that is important to you?
No one ever makes the trucker the good guy in a novel. Hey, we all know what kind of crap happens on the road. Multiply that by three hundred and sixty-five days and you've got a slew of material for a slew of books. Besides, when Janet Evanovich tells you the series is a great idea—one that she wish she'd thought of—you begin to think you're on to something. More than that, I'd like people to better understand the trucking sub-culture and recognize if you bought it, they brought it.
What are your thoughts on a happy ending versus a satisfying ending and how does that play into your work?
Happy endings are generally too predictable. I don't like predictable. Satisfying endings depend on the reader. I'm rarely satisfied at the end of a great book. That's what makes it so great. That's what keeps me talking about it.
You are an award-winning author. Two Killer Nashville Awards and Georgia Author of the Year. What were your first thoughts upon winning and how have those awards changed your goals and writing ambitions?
First of all, I was darn glad I wasn't there alone. And then, very much unlike me, I was speechless. To say the awards were an honor is an understatement. I finally had a sense of validation. As a writer who sits at home talking to herself, living in a fictional world, one tends to question, well, everything. Is this good? Is this crap? Does anyone care? Will anyone read it? Did I switch the wash to the dryer?
Now, I no longer question myself or my writing. I have a newfound confidence in my work, feel as though my direction is set. I've paid my dues.  Maybe it's time for the reward.
With three books under your belt, what's next for Linda Sands?
The Cargo Series will debut with Down & Out Books in 2017. It's my first series and introduces badass tenacious trucker Jojo Boudreaux.
The first book, Grand Theft Cargo deals with stolen pharmaceuticals, while the second book, Precious Cargo goes darker with a sex-trafficking theme.
I'm currently polishing a stand-alone novel, Get Cozy. It's a satirical look at the changing world of publishing. Of course, people will die. I've got a list as long as my leg for new projects and book ideas. I'm always exploring new avenues for my writing. You haven't seen the last of me. I hope that feels like a promise, not a warning.
Novels
Simple Intent, OpenBooks
Not Waving, Drowning, Bookbaby
3 Women Walk into a Bar, Down& Out Books, Kindle Press
Grand Theft Cargo, Down& Out Books
Precious Cargo
Not Waving, Drowning is the story of three women bound in a poetic tapestry.
 Modern day architectural photographer Maggie Morris is called to Savannah when her husband is presumed drowned. Bobbie Denton, an 1889 New York reporter running from her past ends up in Savannah and uncovers the story of The Waving Girl. Flora Martus, The 72 year old Waving Girl of Savannah, tells all her secrets to the mortician's daughter on one day in 1940 when she lays her beloved brother, the lighthouse keeper to rest. Using the poetry of Stevie Smith as the through line, this tapestry of stories weaves a common thread of humanity in that love can't be judged, the past can't be rewritten, and not everyone can be saved.
"An ambitious novel that compellingly intertwines the lives of complex characters … Wonderfully rich and readable, a remarkable debut novel by an exciting new author." ~Robert Olen Butler
"With uncanny ability, Linda Sands weaves the disparate threads of three women's lives into a beautiful tapestry.~Patti Callahan Henry
Paperback: 230 pages  $15.99
Publisher: CreateSpace Independent Publishing Platform (September 26, 2011),
ISBN-10: 1466409738
ISBN-13: 978-1466409736
Trade paperback copies available from the author's stock 60/40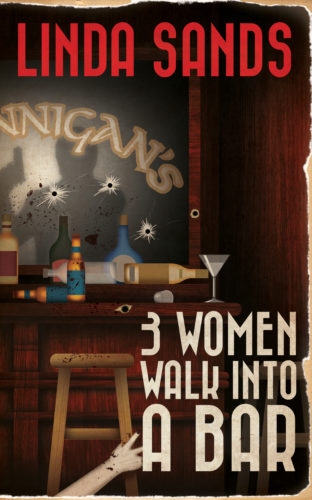 It might sound like a joke, but there's nothing funny about three beautiful women murdered in an Irish pub in Syracuse. The cops think it's an open and shut case, pointing the finger at the dead guy with the gun, bar owner James John Smith. But when a mother of one of the victims hires her lover, Bill "Free Willy" Tedesco, an ex-stripper and karaoke star turned PI to investigate, the secrets of the dead surface and the question of who pulled the trigger becomes more important than why.
"Clever, sexy, witty, and shot glasses full of fun, 3 Women Walk Into a Bar is no joke — and with one of the freshest and most exciting new voices in crime fiction, Linda Sands is an author to watch." ~Douglas Corleone, author of Robert Ludlum's The Janson Equation
"Those who aren't real-life friends with Linda Sands – or at the very least on Facebook, have no way to prepare for the verbal onslaught that is her wit and writing. Three Women Walk into a Bar introduces itself like the opening of a bad joke then quickly unravels into a roller-coaster murder mystery with a pace not beholden to the style of either coast. Sands is an original in a field of copycats, as fresh and deliberate as a sucker punch in the face."  ~ Matt McGee, editor Falling Star Magazine
"Though its intelligent humor is obvious, 3 Women Walk into a Bar is no joke.  It's a wonderfully twisted tale with a sly take on our digital culture.  Riveting and beautifully written, this is a novel that should be on everyone's must-read list." ~ William Kent Krueger, Edgar award winning author of Ordinary Grace and the Cork O'Connor mystery series
Print Length:294 pages
Page Numbers Source ISBN:1937495973
Publisher:Kindle Press (June 9, 2015)
ASIN:B00U7W76Q
 AWARDS:
Georgia Author of the Year, Mystery 2016
Killer Nashville Silver Falchion Judges Choice, Best PI
Killer Nashville Silver Falchion Judges Choice, Best Neo-noir
Trade paperback copies available from the author's stock 60/40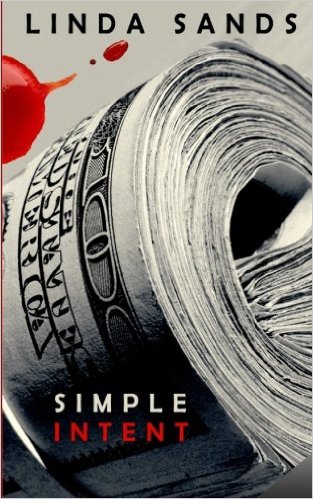 When two opportunistic interns uncover details about a 1970s cold case, their simple intent to free an innocent man is thwarted by crooked cops, a slick prosecutor turned defense attorney and a bunch of Philadelphia bad guys.
Over thirty years ago Ray Bentley was tried and convicted of murder. He lost everything…his beautiful wife, their unborn child and his freedom. Sentenced to life in prison, Ray lived with the knowledge that he was innocent and had no way to prove it.Now, in 2010, two young legal interns – Reilly and Sailor stumble upon some information that could clear Ray and give him his freedom. However, they quickly discover this is not an easy task. In fact, it's dangerous and their own lives become threatened if they don't give up their quest for the truth. What started out as a simple intent to help an innocent man, turns out to be a race to save their own lives.
This book has everything from crooked cops to mobsters to lawyers with their own agendas. This is a fast-paced thriller that keeps readers on their toes and hooked until the last page. There is plenty of action as well as a little romance tossed into one powerful and explosive story.
Linda Sands' writing style is addictive. I wanted to keep reading and never put the book down. I hated to see this story come to an end. I'll anxiously be awaiting Ms. Sands' next book.       ~ Socrates book Reviews
Print Length: 252 pages, $15.95
Publisher: Open Books (August 27, 2010)
ASIN: B00413QN2G
Trade paperback copies available from the author's stock 60/40