This is a first. Our featured author sent me this picture.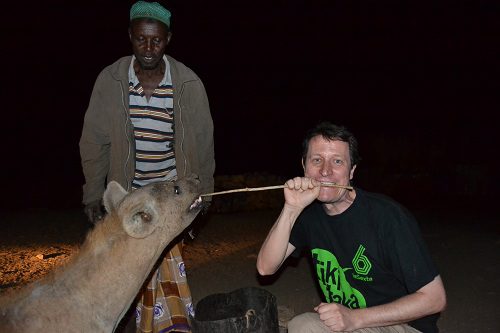 He says, "This me feeding the hyenas in Harar, Ethiopia. The people there have a close relationship with hyenas and feed them to keep them semi-tame."
Oh my. I never knew hyenas were that large and ummm creepy looking.
  Enough about hyenas, let's meet Sean!
Sean McLachlan is a former archaeologist who has excavated in the Middle East, Europe, and the United States. Now a full-time writer, he specializes in history, travel, and fiction. He won the 2013 Society of American Travel Writers Award for his Iraq reportage. Sean is busy working on three fiction series: Toxic World (post-apocalyptic science fiction), House Divided (Civil War horror), and the Trench Raiders action series set in World War One. Half of Sean's time is spent on the road researching and writing. He's traveled to more than 30 countries, interviewing nomads in Somaliland, climbing to clifftop monasteries in Ethiopia, studying Crusader castles in Syria, and exploring caves in his favorite state of Missouri. Sean is always happy to hear from his readers, so drop him a line via his blog!  You can also find him on Facebook and Twitter.
Are you ready to play? You seem like a guy who doesn't stick to the rules, a sort of Indiana Jones kind of mentality. Well, there's no snakes and no pits here, so  let's go!
Take the Author Challenge: Answer 10 Questions in 10 Words
You lucky duck! You get to spend a day with one of your characters. Who is it and what do you do?


Asif, the refugee boy from The Last Hotel Room. Someone needs to feed him.
What was your favorite (graded or not) class you ever took?


All my archaeology classes.
List ten unique things on or around your writing space.
A Shrine of Imam Ali glitter globe from Najaf, Iraq.
A Moche stirrup vessel from Peru.
A sketch by Mohammed Mrabet.
A Croix de Guerre picked up in a junk shop in Tangier.
Some beads given to me by an Ethiopian friend from Harar.
A painting of my wife when she was eight, painted by my father-in-law.
A plaster skull from Dia de los Muertos, from Mexico.
A beer stein made in "Western Germany". Bought in a junk shop in Madrid. Looks old.
A bronze statue of Shiva liberated from the abusive ex-boyfriend of a friend of mine. Go on, try to get it back. I dare you.
A cheap touristy coffeepot from Baghdad. I only bought it because the fact that tourist trinkets are still being made in Baghdad fills me with an odd sort of hope.
I'm sending you on vacation—alone. Where will you go, what will you do?


Sudan, to see the pyramids at Meroe.
Your book is going to be a movie. Hooray. You get to cast the lead characters. Go!


No idea. I can't even name most of my favorite actors.
An author in your genre is too sick to write anymore. Their publisher calls upon you to fill in. Who's the author and what's the title of the book you'll write?


Robert Silverberg. Living Inside.
A famous NYC deli is naming a sandwich after you, what is it called and what's in it?


The Irresponsible. It's filled with everything unhealthy. And yes, that includes pork rinds. And beer. Don't ask me how to put beer in a sandwich. That's the deli's job.
What are you reading this week?


The Big Sleep by Raymond Chandler. Islamic Art by David Talbot Rice.
Let's talk pets. What do you have? What do you want? What died?


No pets. Would love a ferret. Clever little guys.
Go to your current WIP. Turn to page 10. Write the ten words that appear on line 10.


"There was no point praying. God had stopped listening."
 Holy moly. Where do I start? Your travels inspire me. I need to embark on less traditional escapes, and more of this sort of adventure. I will admit,  one of my bucket list items is to participate in an archeological dig, and the other is to storm chase a tornado. We need to talk 🙂 Also, I owned a ferret for quite a few years, she had one litter and was a horrible mother… but a very clever thief, and a very funny pet.
  Thanks for playing, Sean, Wishing you the best of luck with your newest book, The Last Hotel Room.
 It's just been released. All you lucky Kindle Unlimited folks can scoop it up for free! For everyone else, it's being offered for just $2.99, with a portion of the proceeds going to a charity for Syrian refugees.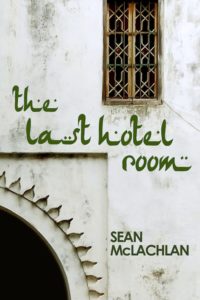 He came to Tangier to die, but life isn't done with him yet.
Tom Miller has lost his job, his wife, and his dreams. Broke and alone, he ends up in a flophouse in Morocco, ready to end it all. But soon he finds himself tangled in a web of danger and duty as he's pulled into scamming tourists for a crooked cop while trying to help a Syrian refugee boy survive life on the streets. Can a lifelong loser do something good for a change?
******
Every month new authors  are featured on Linda's blog. If you're a writer, or have a suggestion for an author to interview, please reply in the comments or drop us a line  on the Keep in Touch page.
You can also subscribe to the blog here.
"Clever, sexy, witty, and shot glasses full of fun, 3 Women Walk Into a Bar is no joke — and with one of the freshest and most exciting new voices in crime fiction, Linda Sands is an author to watch."
~Douglas Corleone, author of Robert Ludlum's The Janson Equation