I have been running around the south this fall attending a bunch of conferences and festivals. It has been a great year and tomorrow's blog will talk more about that, as I finally get a moment to wrap up 2016 so far, post some photos and get you all caught up.
In the meantime, let's meet Kate and talk books.  Last year, at Bouchercon in Raleigh, I met Absolutely*Kate. She was always at the center of a group, either gathering them or organizing them, or introducing them. Her enthusiasm for the written word and the folks behind the pen is obvious- and contagious. I can thank her for a whole slew of new writer pals. Even the kind of pals that actually buy you drinks. I know! I have been reading her book, The Damp Fedora since our return from Bouchercon in New Orleans, and I feel like I am in one of my favorite noir films. She certainly can write dialogue and nails the setting.
Check out the links below to grab your own copy, but right now sit back while I introduce today's author: Kate Pilarcik.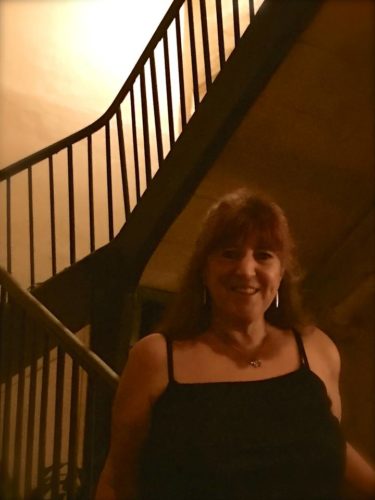 KATE PILARCIK, suspense author and intrigue promoter (as Absolutely*Kate), has moxie. World needs more moxie. Kate's noirvellas of 1940's Detective Nelle Callahan feature OSS illusion flair interwoven with history's last laugh. These reader-acclaimed noirvellas will publish as an ongoing intrigue serial by Down & Out Books. Noir and crime-thrillers, cross-currents of jazzy lit-prose, plus adventures in legends and lore spark this author's prolifics from Ohio roots to the Connecticut and Rhode Island shore. While appearing in seven acclaimed anthologies, (two were lauded writer-launch sites by the NY Times; one nominated for best Crime-Fiction Shorts; another raised funds to chase cancer from children), Kate is published, interviewed and a promotional force in award-winning noir | thriller | crime ezines, readership-blogsites, podcasts and rousing international collaboratives of intrigue/noir and fantasy/pulp-fiction.
Okay, fancy-pants, let's play. Ten questions to be answered in ten words. Go!
1.  You lucky duck! You get to spend a day with one of your characters. Who is it and what do you do?
          Detective/Secret OSS agent Nelle Callahan. We pull classified capers
2.  What was your favorite (graded or not) class you ever took ?
         Lou DeMarco's CreativeWriting. Made friends with Holden Caulfield, then on a spree.
List ten unique things on or around your writing space.


Framed photos of Linda Sands ~ always smiling with drinks in hands.


Propped up prominent first copy of THE DAMP FEDORA


OHIO postcard — the original growing up homeland.




NOLA golden fleur de lis

 postcard




FITBIT ALTA box I have to open and sync.




SeaHaven mouse mat I designed




Pro Football Hall of Fame tag from Bradshaw jersey that son Josh gifted me 




Cezanne-type fonts package 




A collage: family and pals pics, Ace of hearts card, crooked "I heart stories" pin, napkin from Yale European summer studies program that Prof deputy-chaired
I'm sending you on vacation—alone. Where will you go, what will you do?


Back-in-time. Ohio back patio with Dad, feet on the rail. Coffee.

Your book is going to be a movie. Hooray. You get to cast the lead characters. Go


Nelle = Gene Tierney




The damp fedora fella is a cross between Cary Grant/Jimmy Stewart/Dean Martin.

Two authors in your genre are too sick to write anymore. Their publishers call upon you to fill in. Who are the authors and what's the title of the books you'll write?


F. Scott Fitzgerald ~ SHOW ME A HERO AND I WILL WRITE YOU A TRAGEDY




Guy I wished to be my Uncle Ray ~ KATE LISTENING TO CHANDLER SPEAKING

A famous NYC deli is naming a sandwich after you, what is it called and what's in it?
"Pizzazz, No Baloney" ~ In it? Why, whatever you're hungry for.
What are you reading this week?
Douglas Waller's ~ WILD BILL DONOVAN
Henry A. Crumpton's ~  THE ART OF INTELLIGENCE
Patrick K. O'Donnell's ~ OPERATIVES, SPIES, and SABOTEURS
Let's talk pets. What do you have? What do you want? What died?

 This is me and "Happy" (Dad named all dogs Happy. )



"Lucky" (What else are you gonna name a black cat?)




"Sasha the Wonder Dog" (beloved cocker spaniel as children grew)




What do I want? Easy. Them all back. Magic wand?

Go to your current WIP. Turn to page 10. Write the ten words that appear on line 10.
An ordinary bar of chocolate makes for a delicious grenade 
That was fun. Thanks, Kate! I'm glad you left the baloney out of that sandwich. ( never been a fan of pink food.) And I agree, a time machine is in order. Hey, that might be a new storyline melding noir and contemporary America. Hmmm.
Follow Kate on FACEBOOK and TWITTER, and Grab your copy today of THE DAMP FEDORA. It's the first in a series of novellas.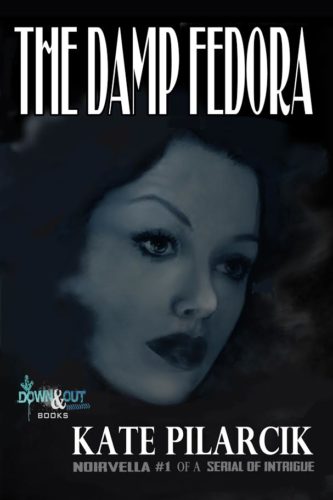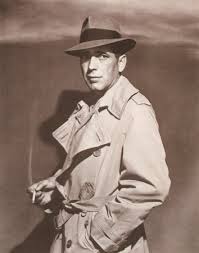 Kate says, If Bogey  were to pitch THE DAMP FEDORA and Nelle, it might sound like this:
1945. Detective Nelle Callahan Blows you away. Trust me. I know things. It's her debut in our Katie's book. Go for suspense, wise-guy action, espionage, sports, snappy lingo and intrigue. Take the book home. You're going to dig it, bub. You too, toots. Trust me. I know things.
******
Every month new authors  are featured on Linda's blog. If you're a writer, or have a suggestion for an author to interview, please reply in the comments or drop us a line  on the Keep in Touch page.
You can also subscribe to the blog here.
"Clever, sexy, witty, and shot glasses full of fun, 3 Women Walk Into a Bar is no joke — and with one of the freshest and most exciting new voices in crime fiction, Linda Sands is an author to watch."
~Douglas Corleone, author of Robert Ludlum's The Janson Equation