And she's definitely an author you should be reading. Heck, you've got like sixteen books to chose from. Slow down, Maggie! Give the rest of us a chance, would you?
You can call her Maggie or you can call her Rigel, you can even call her fifty years in the future.
Welcome to the page!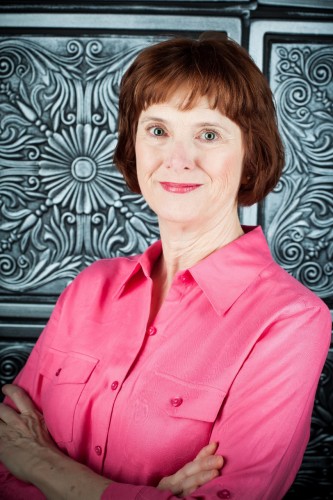 Formerly a contract scientist for the U.S. Army and a freelance reporter, Southern author Rigel Carson, the pen name of Maggie Toussaint, is multi-published in suspense and mystery books. Her background in environmental science and toxicology, as well as years spent doing water research, provided the impetus for this new science fiction/ecothriller series. Rigel's series is set on a futuristic Earth, fifty years from now. Visit Rigel at http://www.rigelcarson.com
( Maggie, ever the scientist, was the first author in these interviews to actually questions the 10 word reply format, to the point she thought about how to break down a possible  100 word total for 10 questions… yes, Maggie needs a cocktail. 🙂
Take the Author Challenge: Answer 10 Questions in 10 Words
Hi there. It's a tough writing day ahead. What are you wearing?


Polartec Fleece, head to toe. My comfort clothing.
We've all read bad books for the right reasons. What's the worst book you read, and why?


I read friend's book to blurb it; it wasn't publishable.
Here's a two-parter. You've been hired to write an episode in a popular TV series. You must introduce a new character and create a plot twist.


What's the show and name of character? (It's okay to abbreviate show title.)
The Big Bang Theory – adding the ghost of Albert EinsteinWhat's the plot twist?
Sheldon questions everything, falls apart, and makes important discovery.
Reading aloud can be sexy- or daunting. I want you to read to me. What do you choose and why?
Shel Silverstein's Where the Sidewalk Ends; it makes me think.
List ten unique things on or around your writing space.


Two Christmas frogs, dental floss, binoculars, gloves, cemetery book, iced tea, original art, refurbished secretary, and family photos
For your book to become a best seller and make you bazillions, you have to lose one of the following: a leg, an arm, your vision, your spouse. Which do you choose?
None of the above. Fame is fleeting. Family's forever.
A famous NYC deli is naming a sandwich after you, what is it called and what's in it?
The Magwood with grilled veggies and chicken stacked high

Get in the car of your dreams and race me. What are we driving and where are we?


An amphibious car and we're racing to a remote island.
Write your life's story—so far—in ten words.


I came. I saw. I did. I wrote.
Go to your current WIP. Turn to page 10. Write the ten words that appear on line 10.


On shaky legs, I made it to the sink for
Well, I for one want to know about these Christmas frogs! LOL. Thanks for playing, Maggie. That was fun. I like the amphibious car idea- actually watched a show not too long ago where an RV became a boat. A very slow boat, but still… it floated.
  Check in with Maggie/Rigel on any or all of these sites:
Website | Facebook | Twitter | Blog | Goodreads | LinkedIn | Pinterest | Booklover's Bench |
Buy her newest book on Amazon.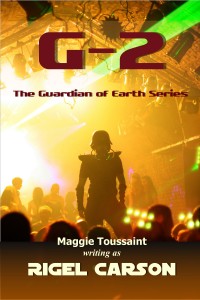 G-2, the sequel to Rigel's Kindle Scout Winning G-1, released September 22
Spaceships arrive in 2065 Earth, and world leaders salivate at the possibility of interstellar trade with the friendly Maleem. Dr. Zeke Landry, the Guardian of Earth, activates his telepathic connection with his ancient race, the Tamans, who tell him that these explorers are merciless destroyers. The Maleem are given the Red Carpet treatment. In return, they award jeweled necklaces to key leaders and trouble begins. Zeke and Forman are once again tasked to save the world. They're outgunned, outmaneuvered, and outclassed, but they are humanity's only hope.
If you're an author or know someone you'd like to be interviewed, drop us a line at Linda@lindasands.com and we'll get right back to you.
Like what you read? Check out more of Linda's writing over here.
Her new book, 3 Women Walk into a Bar is already earning rave reviews. Available now as an ebook and coming next month in trade paperback wherever fine books are sold.
"Clever, sexy, witty, and shot glasses full of fun, 3 Women Walk Into a Bar is no joke — and with one of the freshest and most exciting new voices in crime fiction, Linda Sands is an author to watch." ~Douglas Corleone, author of One Man's Paradise, Good as Gone, Payoff and Robert Ludlum's The Janson Equation
 "Though its intelligent humor is obvious, 3 Women Walk into a Bar is no joke.  It's a wonderfully twisted tale with a sly take on our digital culture.  Riveting and beautifully written, this is a novel that should be on everyone's must-read list." ~ William Kent Krueger, Edgar award winning author of Ordinary Grace, and the Cork O'Connor mystery series
"A fresh new voice that's a bit noir, a bit off-beat, and a heckuva good time." ~Maggie Toussaint, Author of Bubba Done It, a Dreamwalker mystery.
"Those who aren't real-life friends with Linda Sands – or at the very least on Facebook, have no way to prepare for the verbal onslaught that is her wit and writing. "Three Women Walk into a Bar" introduces itself like the opening of a bad joke then quickly unravels into a roller-coaster murder mystery with a pace not beholden to the style of either coast. Sands is an original in a field of copycats, as fresh and deliberate as a sucker punch in the face.~ Matt McGee, editor, Falling Star Magazine
 (coming soon, a book of recipes and cocktails, featuring drinks named for eight characters in 3 Women Walk into a Bar. Check out the videos of Linda making the drinks on youtube:
CLICK HERE
)
Have an awesome week!