I found and joined the Facebook group, Naked Girls Reading, without really knowing what it was, only that I was one of them. I admit. I read in bed. I'll also admit, I don't always wear pajamas.
But wait, read on.
This is a live reading series, where totally buck naked- not even a pasty- they claim. beautiful Burlesque dancing women read from banned books.
"Pinchbottom Burlesque debuted Naked Girls Reading Banned Books at Madame X on Friday, October 16. It was hosted by Nasty Canasta, with Gal Friday, GiGi La Femme, Jo Boobs, Legs Malone, Sapphire Jones and Naked Girls Reading creator, Michelle L'Amour. "
I know. Great, isn't it?
Now, I'd love to see some audience reaction photos.
Here, "Nasty Canasta reads And Tango Makes Three, the true story of Silo and Roy, a male penguin couple in the Central Park Zoo. The American Library Association deemed it the most banned book of 2009 and most challenged book of 2006 – 2008."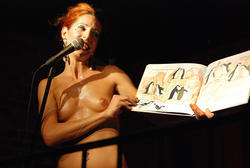 God, I love New York.