Holy cow.  It's DECEMBER? Where the hell did this year go?  Hang on.
*********************************
Okay, I'm back. I just ordered all the Christmas and Hanukkah presents, printed up a boatload of party recipes, planned the outside light configuration and started the annual newsletter report.
I may not be ready for the holidays, but I'm better off than I was yesterday. And that's something. I hate getting forced into celebrating before I'm ready. You know how that is, with stores leaping from Halloween to Christmas to Valentine's Day.  I'm sure I wasn't the only one bothered by hearing "Winter Wonderland" in October. Hey, I've got nothing against holiday music. I grew up listening to Bing Crosby and Frank Sinatra crooning about chestnuts and drummer boys, though not in the same song and rarely on the same stage. Hearing the first song of the season brings me right back to sitting cross-legged on the orange shag rug in front of the television while Frosty the Snowman melts. I'm all about the crying girl and the way she pinned her hopes on a mentally disabled fat man in a top hat. I'd just rather that first song happened in December, like maybe the second week in. Because I'm a writer and I like tight deadlines, not long ramp-ups to clearance sales.
Well now, all of that ramp-up has a little something to do with this week's guest Jim Morris and his new book, Melophobia. I'll let the smart readers figure it out. First, welcome Jim to the page!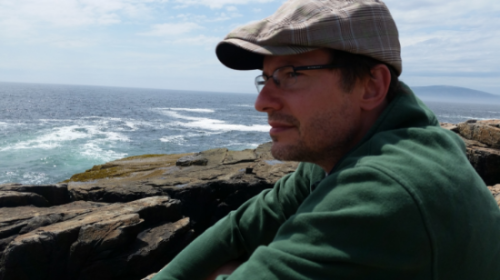 James Morris is a former television writer who now works in digital media. When not writing, you can find him scoping out the latest sushi spot, watching 'House Hunters Renovation', or trying new recipes in the kitchen. He lives with his wife and dog in Los Angeles.
Are you ready to play? You know the rules: Ten words or less for each answer.. go!
    Take the Author Challenge: Answer 10 Questions in 10 Words
Hi there. It's a tough writing day ahead. What are you wearing?


No socks, pajamas with a few holes, T-shirt with bedhead.
We've all read bad books for the right reasons. What's the worst book you read, and why?


I'm taking the Fifth; every book has meaning to someone.
Here's a two-parter. You've been hired to write an episode in a popular TV series. You must introduce a new character and create a plot twist.




What's the show and name of character? (It's okay to abbreviate show title.)


The show is Archer on FX. The character: Future Archer.

What's the plot twist?


Archer meets himself from the future ala "Bill & Ted…."
Reading aloud can be sexy- or daunting. I want you to read to me. What do you choose and why?


Anything by Neil Gaiman; his cadence makes me sound English.
List ten unique things on or around your writing space.


Nothing extraordinary: desk, computer, speakers, printer, and Star Wars posters.
For your book to become a best seller and make you bazillions, you have to lose one of the following: a leg, an arm, your vision, your spouse. Which do you choose?


None; a bestseller is not worth losing what you love.
A famous NYC deli is naming a sandwich after you, what is it called and what's in it?


The Jambo: caramelized everything; goopy cheese; fresh bread; roasted duck.

Get in the car of your dreams and race me. What are we driving and where are we?


A sleek 1940's car with headlights the size of pumpkins.
Write your life's story—so far—in ten words.


Chicago to Los Angeles; single to married; lonely to loved.
Go to your current WIP. Turn to page 10. Write the ten words that appear on line 10. 


"I'm sorry, Max," and I awkwardly hugged him. "I'm so sorry."
Oh my, The Jambo. Sounds lovely. And I am a huge Gaiman fan!
Folks, you can connect with Jim on Facebook or Twitter  and be sure to pick up Jim's newest book,  MELOPHOBIA over HERE and start reading today.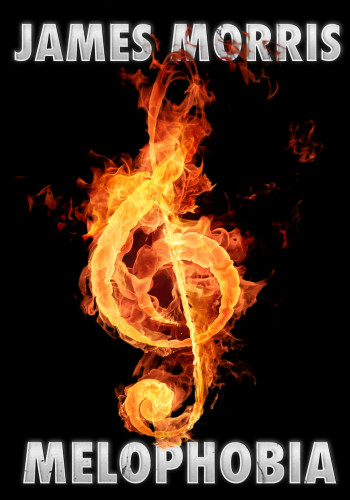 Melophobia: fear or hatred of music.
        The time – now; the place – America, but in a world where the government controls all forms of art and creativity. Any music sowing the seeds of anarchy is banned – destroyed if found – its creators and listeners harshly punished.
Merrin Pierce works as an undercover Patrol officer assigned to apprehend a man who threatens the safe fabric of society, only to confront everything she thought to be true – her values, upbringing, job and future.
Can love survive in a world without music? Publisher's Weekly called it "a convincing alternative history novel and…an accomplished coming-of-age love story that asks big questions about freedom and expressiveness in the face of oppression."
Like what you read? Check out more of Linda's writing over here.
Her new book, 3 Women Walk into a Bar is already earning rave reviews. Available now as an ebook and coming next month in trade paperback wherever fine books are sold.
"Clever, sexy, witty, and shot glasses full of fun, 3 Women Walk Into a Bar is no joke — and with one of the freshest and most exciting new voices in crime fiction, Linda Sands is an author to watch." ~Douglas Corleone, author of One Man's Paradise, Good as Gone, Payoff and Robert Ludlum's The Janson Equation
 "Though its intelligent humor is obvious, 3 Women Walk into a Bar is no joke.  It's a wonderfully twisted tale with a sly take on our digital culture.  Riveting and beautifully written, this is a novel that should be on everyone's must-read list." ~ William Kent Krueger, Edgar award winning author of Ordinary Grace, and the Cork O'Connor mystery series
"A fresh new voice that's a bit noir, a bit off-beat, and a heckuva good time." ~Maggie Toussaint, Author of Bubba Done It, a Dreamwalker mystery.
"Those who aren't real-life friends with Linda Sands – or at the very least on Facebook, have no way to prepare for the verbal onslaught that is her wit and writing. "Three Women Walk into a Bar" introduces itself like the opening of a bad joke then quickly unravels into a roller-coaster murder mystery with a pace not beholden to the style of either coast. Sands is an original in a field of copycats, as fresh and deliberate as a sucker punch in the face.~ Matt McGee, editor, Falling Star Magazine
 (coming soon, a book of recipes and cocktails, featuring drinks named for eight characters in 3 Women Walk into a Bar. Check out the videos of Linda making the drinks on youtube:
CLICK HERE
)
Have an awesome week!