Hey everybody,
Happy  Wednesday. This is a good day to play games. Some folks try to play a mental game with work, calling it Hump Day, or Martini Wednesday, trying to forget how the job sucks or the bills are due, or your mother is kicking you out of the basement- again.
But for some of us, it's a day to read and write and reflect on people who actually read and write for a living.
Like this guy. Happy smiling Jake.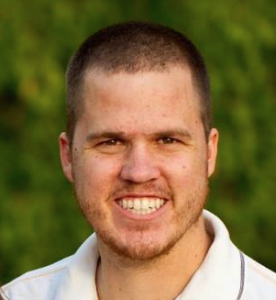 Jake is an enthusiastic new author that is excited to share his stories with the world. His debut novel, Freelancer, was a Kindle Scout selection in March of 2015. Now Jake is back with his action packed sequel to his well-received first book. When he's not writing code or novels Jake likes to spend time with his wife and puppy dog. You can find him at JakeNotJacob.com or reach out to him @JakeLingwall on Twitter.
Are you ready, Jake? You look ready! Let's play.
                    Take the Author Challenge: Answer 10 Questions in 10 Words
Hi there. It's a tough writing day ahead. What are you wearing? 


Same as always: jeans, free tech t-shirt and pumas.
We've all read bad books for the right reasons. What's the worst book you read, and why?


Twilight – Pass time after getting my wisdom teeth out. =(
Here's a two-parter. You've been hired to write an episode in a popular TV series. You must introduce a new character and create a plot twist.


What's the show and name of character? (It's okay to abbreviate show title.
 TWD – Rambo – puppy dog that can cure zombies with licks.

B. What's the plot twist?


They don't know that and they eat Rambo. THISWHOLETHINGWASABADIDEABUTITWASTHEONLYTHINGTHATCAMETOMINDWHENANSWERINGTHESEQUESTIONSILOVEDOGSANDWOULDRATHERBEEATENMYSELF=)

Reading aloud can be sexy- or daunting. I want you to read to me. What do you choose and why?


Relevant: https://www.youtube.com/watch?v=XkLqAlIETkA


Pride and Prejudice – Wife's favorite book that I read her.
List ten unique things on or around your writing space.
Treadmill, tiles, HVAC, mechanical-keyboard . . . …. boxes, rug, insulation, christmas-decorations, more empty basement.
For your book to become a best seller and make you bazillions, you have to lose one of the following: a leg, an arm, your vision, your spouse. Which do you choose?




Leg. Not necessary for writing and I love my wife. =)
A famous NYC deli is naming a sandwich after you, what is it called and what's in it?


Billion One-Dollar Ideas – Pastrami, butter, cheese, and tiny dreams.
Get in the car of your dreams and race me. What are we driving and where are we?


To the next Tesla Supercharging Station. Then to get lunch.
Write your life's story—so far—in ten words.


The magnanimous man who married way up and wrote this.
Go to your current WIP. Turn to page 10. Write the ten words that appear on line 10.
. . . before falling asleep and experiencing the first shared dream of . . .
Heck yes, that was fun. I'm sorry about your leg, but glad you can now afford to buy us both Teslas!  Yay! Best of luck with Freelancer, and all your other books!
What's it about?
Kari, freelance hacker and high school student, designs anything from art to security software in a world where 3D printers, drones, and computers connect directly to the brain. With the threat of Civil War looming, Kari must keep her programming skills secret while protecting her family and friends. Her choices have consequences she's not ready to face.
   What are folks saying?
"What a fun YA read! I read this in a couple days and feel like I just went through a whirlwind of awesomeness." -T.L. Zalecki, author of the SIRENS series
 "Lingwall's page turning dystopian YA novel kept me on the edge of my seat. The high octane blend of Kari's vulnerabilities, poise, and talents stole the show." -Maggie Toussaint, author of G-1
Buy Freelancer today … with one click right over HERE. 
Follow Jake on Facebook, or check out his upcoming books on his Amazon Author page over here.