It's another week. Another author. Another fantastic new book for you to check out. And look, she's saluting you!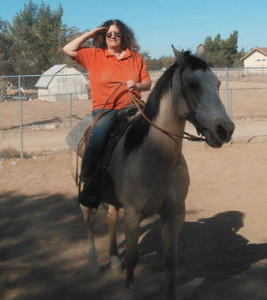 Amy Wolf has published 38 short stories, including two in Realms Of Fantasy, and one in Interzone.  Her memoir, Don't Let Me Die In A Motel 6, is a humorous account of her years after the Great Recession (and is available on Kindle). Amy started her career working for the Hollywood film studios, where she was a script writer/reader.  She is currently a refugee from Los Angeles living in Seattle.
Hi Amy! and Welcome to the page. Are you ready?  Come on, get down off your high horse LOL and let's play 10 for 10.
Take the Author Challenge: Answer 10 Questions in 10 Words
Hi there. It's a tough writing day ahead. What are you wearing?


Jeans and a pink Lauren polo shirt.

We've all read bad books for the right reasons. What's the worst book you read, and why?


Pilgrim's Progress, and because I had to for my English degree. If that Christian had swooned one more time and had another vision, I was going to hang myself by the light fixture.

Here's a two-parter. You've been hired to write an episode in a popular TV series. You must introduce a new character and create a plot twist.




What's the show and name of character?


Silicon Valley, Feizel Goldstein.

What's the plot twist?


He's a brilliant Indian coder who was adopted by a Jewish family, so no one can understand him but all he does is complain! He's finally hired by Hooli to head up H.R.

Reading aloud can be sexy- or daunting. I want you to read to me. What do you choose and why?




First chapter of

Pride and Prejudice

. Because I already have it memorized,

plus

it's hysterical.

List ten unique things on or around your writing space.


A Bigfoot Bear salt & pepper shaker; a CD of a Marilyn Manson video; a brochure from the L.A. zoo; a large shaker of black pepper; Solzhenitsyn's First Circle on a shelf above my head; the kitchen; two extremely hyper small dogs; a bunny in a cage who is busily flinging his poop on the floor; a coffee cup filled with cold espresso.

For your book to become a best seller and make you bazillions, you have to lose one of the following: a leg, an arm, your vision, your spouse. Which do you choose?


Sorry, Tim.

A famous NYC deli is naming a sandwich after you, what is it called and what's in it?


Oy! The Amy Tsuris consists of: corned beef, pastrami, turkey, Russian dressing, tomatoes, lettuce and multiple pickles on the side. NO MUSTARD.

Get in the car of your dreams and race me. What are we driving and where are we?


I'm in a Dodge Challenger Hellcat with 600HP. You are in a Ford Focus. We're on the Autobahn in Munich, smoking sharply dressed duos on motorcycles and pathetic Porsches. Also, Beamers screech to the shoulder to get out of our way (I hate BMW drivers).

Write your life's story—so far—in ten words.


Nice Jewish girl from Encino makes good. Struggles along way.

Go to your current WIP. Turn to page 10. Write the ten words that appear on line 10.


"[I] strongly suggest you start thinking about a dress."
That was fun! I love that our rides are smoking the Porsches, and sorry, Tim! LOL.
Now Amy has a few questions for you.
What if. . . Branwell Brontë had not died before Emily?
What if. . .Charlotte was able to marry her "Mr. Rochester"?
What if. . .the Brontës' school actually found a pupil:  one who is taught by three geniuses?
Find out what happens in Kindle Scout Winner, The Misses Brontë's Establishment. Now available in paperback and on Kindle at Amazon: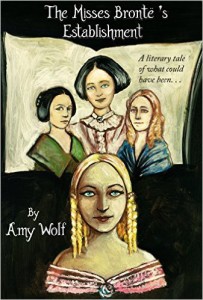 Follow Amy on Twitter HERE and check out her GoodReads page over here.
Tune in next week for another edition of The Author Game.
If you are a writer, or have a writer suggestion to play 10 for 10, please drop an email to linda@lindasands.com We are scheduling the rest of 2015 now.
Like what you read? Check out more of Linda's writing over here.
Her new book, 3 Women Walk into a Bar is already earning rave reviews. Available now as an ebook and coming next month in trade paperback wherever fine books are sold.
"Clever, sexy, witty, and shot glasses full of fun, 3 Women Walk Into a Bar is no joke — and with one of the freshest and most exciting new voices in crime fiction, Linda Sands is an author to watch." ~Douglas Corleone, author of One Man's Paradise, Good as Gone, Payoff and Robert Ludlum's The Janson Equation
 "Though its intelligent humor is obvious, 3 Women Walk into a Bar is no joke.  It's a wonderfully twisted tale with a sly take on our digital culture.  Riveting and beautifully written, this is a novel that should be on everyone's must-read list." ~ William Kent Krueger, Edgar award winning author of Ordinary Grace, and the Cork O'Connor mystery series.
"A fresh new voice that's a bit noir, a bit off-beat, and a heckuva good time." ~Maggie Toussaint, Author of Bubba Done It, a Dreamwalker mystery.
"Those who aren't real-life friends with Linda Sands – or at the very least on Facebook, have no way to prepare for the verbal onslaught that is her wit and writing. "Three Women Walk into a Bar" introduces itself like the opening of a bad joke then quickly unravels into a roller-coaster murder mystery with a pace not beholden to the style of either coast. Sands is an original in a field of copycats, as fresh and deliberate as a sucker punch in the face.~ Matt McGee, editor, Falling Star Magazine
Have an awesome week!