You'll have a certain song going through your head, once you read this week's author bio. And if you're like me, more than a few wonderful memories. Plus, how cool is playing story teller while a chalk artist draws? Dang, I love that. ( go to Vimeo and check out Teletales. )
Let's give a big welcome to the multi-talented Paul Lally!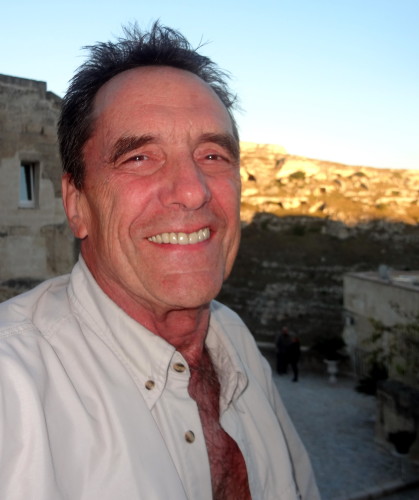 I've got forty-plus years of television and film production under my belt: two screenplays for Walt Disney Productions, director and writer for "Mister Rogers' Neighborhood," three novels, SILK, AMERIKA, and RIDE THE TITANIC!, and also hosted a bumper crop of children's television series; "Gather 'Round," and "Teletales." So, how do I earn my daily bread – other than writing novels? I'm executive producer for America's longest-running cooking show Ciao Italia with Mary Ann Esposito. Not only my daily bread, but my pasta too!
Well, heck if all of that isn't cool enough, Paul sent proof of his over-achieving personality by rising to the occasion and not only sending in a pet photo but also giving us  music links. Yep. I've been listening all morning.
Take the Author Challenge: Answer 10 Questions in 10 Words
You lucky duck! You get to spend a day with one of your characters. Who is it and what do you do?


Take a ride on Xia Zhu's undersea yacht Miss Fortune.
What was your favorite (graded or not) class you ever took?


Television Production 101, where I happily discovered I was creative.
List ten unique things on or around your writing space.
Montblanc fountain pens (3)
Disney movie poster for one of my screenplays
Swiss Railways pocket watch on bulletin board
Bamboo back scratcher
Fourteen-year-old e-mail from Franciscan priest, "GOD WILL PROVIDE!!! Love ya', Ed."
Photo of me when I was four
NH Justice of the Peace certificate
Master's Degree diploma
Nat the Cat (my cat) snoozing on the carpet
Aeron chair

I'm sending you on vacation—alone. Where will you go, what will you do?


Key West, pet Hemingway's six-toed cats, drink gin, dream.

Your book is going to be a movie. Hooray. You get to cast the lead characters. Go!


Xia – Maggie Cheung    Mike – Chris Evans

An author in your genre is too sick to write anymore. Their publisher calls upon you to fill in. Who's the author and what's the title of the book you'll write?


Counterfactual history author, Harry Turtledove – "Nevermore"

A famous NYC deli is naming a sandwich after you, what is it called and what's in it?


All Aboard: NY Rye, Pastrami, Cole slaw, shredded Swiss cheese, Whole Grain Dijon mustard.

Tell us the last ten songs you listened to. (extra credit if you provide links)
I Knew You Were Trouble – Taylor Swift
Hold Back the River – James Bay
O Soave Fanciulla – Anna Netrebko & Rolando Villazón – La Boheme
Adventure of a Lifetime – Coldplay
Celeste Aida – Luciano Pavarotti (Aida)
Birdhouse in Your Soul – They Might Be Giants
9. Let's talk pets. What do you have? What do you want? What died?
Meet Nat the Cat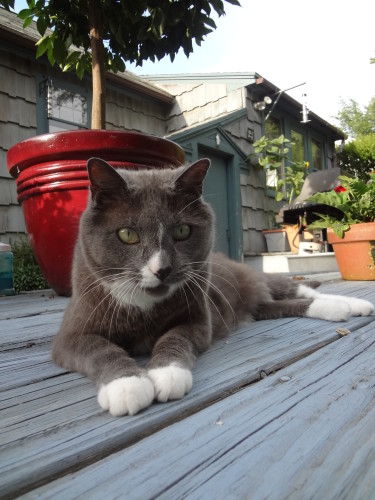 10. Go to your current WIP. Turn to page 10. Write the ten words that appear on line 10.
"Maybe the tree's the reason why."
FACEBOOK:  https://www.facebook.com/Paul-Lally-770246649690072/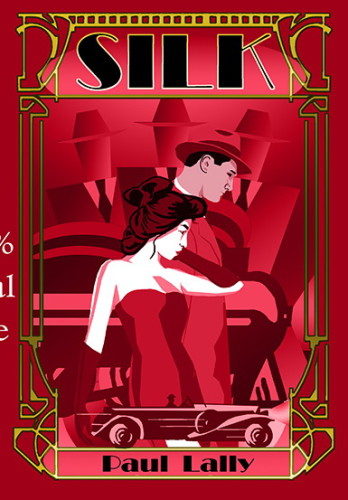 SILK: It's the Roaring '20s. America wants silk at any price…. Japan has it…And when Chicago mobsters hijack a multi-million-dollar "Silk Train" on its way to New York, Japanese silk merchant Aiko Sat? loses her family company's fortune. But with the help of family and friends, including mobster-king Al Capone, she gets the chance of a lifetime to turn tragedy into triumph.
And there's more!  Friend Paul on Facebook. Follow the adventures of Nat the cat or steal an awesome recipe. 🙂
Read more about Paul's books on his author page or click the titles below.